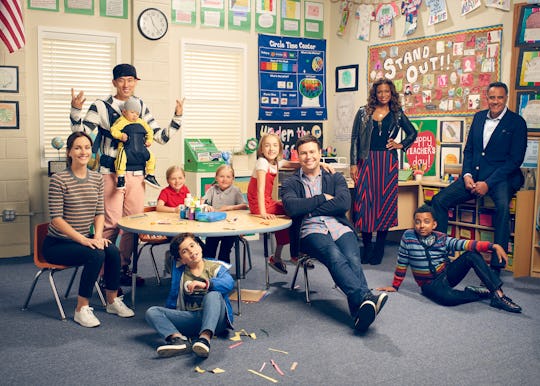 F. Scott Schafer/ABC
ABC's 'Single Parents' Is A Comedy Every Parent Can Relate To
There are plenty of new shows coming to TV this fall, but one comedy in particular has been gaining a lot of buzz. ABC's new sitcom, Single Parents, follows a group of, you guessed it, single parents who are just trying to raise their young kids while maintaining some semblance of a personal life. So, when does Single Parent premiere?
As part of ABC's Wednesday line-up, Single Parents will premiere on Sept. 26 at 9:30 p.m. ET. The half-hour sitcom is a new addition to the network's Wednesday family comedies — which includes The Goldbergs and American Housewife — and will air right after Modern Family. The show comes from New Girl creator Elizabeth Meriwether and screenwriter J.J. Philbin, and features a cast of familiar TV faces.
According to ABC, Saturday Night Live alumni Taran Killam will play Will Cooper, a single dad who has "fallen down the rabbit hole of the PTA, parenting, and princesses" and his single parent friends band around him and push him back into the real world. Everybody Loves Raymond star Brad Garrett will play Douglas, a wealthy retired single parent who prefers the old school method of parenting.
Deadline reported that Gossip Girl star Leighton Meester will join the cast as Angie, an overprotective single mom whose son may be overly attached. On the opposite spectrum, Scandal's Kimrie Lewis plays a mom with a more laid-back parenting style who pushes her son to be independent and raise himself. Jake Choi will play single dad Miggy, a sleep-deprived, 20-year-old single dad who is raising his son while his baby mama is away at college. Not all parenting styles are the same, so it's fun to see some child-rearing diversity on Single Parents. Basically, whether you are a crunchy, silky, or scrunchy parent, it looks like the show has got you covered.
If the trailer for Single Parents is any indication, this show will have you in stitches and yelling at the TV, "Same!" Killam's Will and his daughter Sophie (Marlow Barkley) are new to the school, and as the new class parent, he tries to recruit the group of single parents to participate in class activities. "We're single parents, we don't volunteer," says Meester's character. "We just try and survive until a time in the day when it's appropriate to open wine."
The group realizes that Will has fallen into a parenting "vortex," and after finding out that he carries a mermaid handbag and that he hasn't had sex in five years, they collectively push him to go out on a date. When the group takes Will into the fold and becomes his new support system, he has nothing but love for them. "They're my village," he gushes in the trailer, as the rest of the group cringes and boos in discomfort.
As a parent of school-going children myself, I know the black hole of parenting all too well. In the shadow of admirably zealous PTA parents, I always feel like I'm doing too little or too much, and I can never find a good middle ground. I love my kids, but there's always some kind of event or activity that I'm roped into, and it doesn't leave much room for "me time" or a social life. Honestly, it will be really refreshing to see parents on-screen that are slightly less than perfect, a shout out all those parents who just are trying to get by without losing their mind.
Single Parents premieres on Sept. 26 on ABC, with new episodes every Wednesday at 9:30 p.m ET.