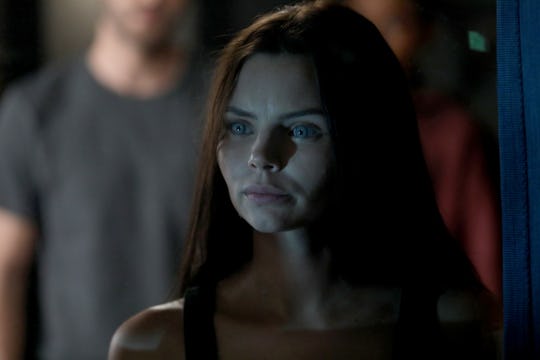 Jack Rowand/Freeform
When Will 'Siren' Be Back For It's Second Season?
If you think mermaids are only meant to gleefully sing and dance while waiting for a handsome prince, think again. Freeform's newest hit drama, Siren, takes the mermaid story to a whole new level, with a mysterious town, a dark new character, gruesome murders, and tons of eerie surprises abound. After a successful first season, Freeform announced they would be renewing the show for a second. After hearing the great news, fans are now wondering, when does Siren Season 2 premiere?
Currently, Freeform hasn't released any details about when exactly the new season will premiere. Season 1 premiered on March 29 of 2018, so if the network sticks to the same schedule and time frame, Season 2 might see a debut sometime in March or April of 2019. However, in a press release this week, Freeform did confirm that they would be adding six more episodes next season, taking the show from ten episodes to sixteen.
Despite the short 10-episode first season, Siren has proved to be one of the best new sci-fi dramas on TV. After years of being hounded with countless vampire and werewolf stories, the show brings a fresh take on mythical creatures and turns the colorful world of smiling mermaids into a darker, more sinister one. The show turned out to be a great bet for Freeform, noted TV Line, becoming their most watched series this year, bringing in an average of 670,000 viewers for the first season.
Created by executive producers Eric Wald and Dean White, the series is set in the fictional coastal town of Bristol Cove, where a young woman, Ryn (Eline Powell), mysteriously shows up. She doesn't speak or communicate much, aside from projecting her siren song and letting out the occasional creepy hiss. Unlike Ariel from The Little Mermaid, Ryn isn't your everyday happy-go-lucky mermaid, she has razor-sharp scary teeth, and has a knack of luring men to their brutal and untimely deaths. It turns out that Ryn is looking for her sister, Donna (Sibongile Mlambo), who has been captured and held in a lab by some sort of government agency.
Local marine biologists, Ben (Alex Roe) and Maddie (Fola Evans-Akingbola), take a special interest in Ryn and embark on a quest to help her find her sister. In the background, a battle between merpeople and humans brews, leaving Ryn and her new acquaintances in the thick of it. In the meantime, local historian and antique shop owner, Helen Hawkins (Rena Owen), puts all the town's tumultuous mermaid history into perspective, bringing out some major surprises of her own.
After all the larger-than-life mythical creature stories you see on TV and the big screen, Siren brings a really cool small town vibe to the genre. The casting is also spot on, with Powell and Roe perfectly playing into their character's tortured souls. As of now, it's hard to tell whether the merpeople are the good guys or the bad, and there is a question about which direction Ben's character will go. But I'm sure that with the longer, sixteen episode second season next year, many more questions will be brought to light.
While there's no official word yet, as of now it looks like you'll have to wait until next spring for the Season 2, however, with a longer season in store, there may be a possibility the network airs it sooner than that. If you haven't seen Siren, or have missed an episode here and there, you can catch the entire first season on Hulu after the tenth and final episode of Season 1, titled "Aftermath", airs on May 24 on Freeform.