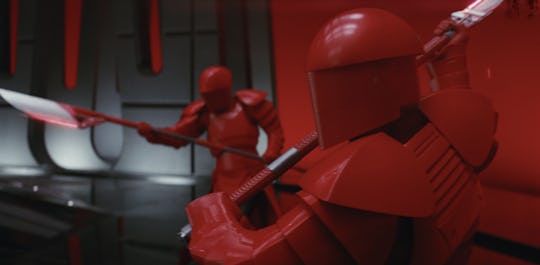 Walt Disney Studios
Here's When 'Solo: A Star Wars Story' Will Hit Theaters
Usually, Star Wars films are few and far between, but fans are in for a treat this winter. People are already scrambling to get their tickets for Star Wars: The Last Jedi this weekend, and then Solo: A Star Wars Story comes out just months later next year. Up until this fall, the film was known only as "Disney's Han Solo movie," according to CNN. In October, director Ron Howard released the official full title and the release date, but other than that, there's not a lot of information about the plot of the film.
It's meant to be a standalone film — released on May 25, 2018 — much like Rogue One was, and not part of the larger Star Wars universe narrative. Unlike Rogue One, though, this film is all about characters fans already love. According to The Verge, the film is going to be all about Han Solo's youth, way before he ever meets Luke Skywalker, Obi-Wan Kenobi, and the droids in A New Hope. The film will also reportedly feature Tag and Bink, beloved characters from the Star Wars comics, according to tweets from Howard.
The film was not easy to produce. Initially, directors Phil Lord and Chris Miller were on the project but allegedly ran into creative differences with Disney, according the Howard was brought in to finish the job and miraculously wrapped production in time to stick to the original release date in May.
Lord told New York Magazine's Vulture that shooting the film and even being publicly replaced by Howard was a decent experience. He said:
The experience of shooting the movie was wonderful. We had the most incredible cast and crew and collaborators. I think in terms of us leaving the project, I think everybody went in with really good intentions and our approach to making the movie was different than theirs. That was a really big gap to bridge, and it proved to be too big.
He added, "Sometimes people break up, and it's really sad, and it's really disappointing, but it happens and we learned a lot from our collaborators and we're better filmmakers for it. We're really proud of the work we did on the movie and we wish everybody the best."
Howard was humble about taking on something as huge as Star Wars. He told ABC News, "Those are challenging projects. And they take they take, you know, a lot of very talented people's energy to try to live up to the legacy of Star Wars and everything that it means." He added, "Of course, no spoilers coming from me but I had a great experience and I think fans are going to really enjoy it."
Alden Ehrenreich has been cast as the young Han Solo and Joonas Suotamo as Chewbacca way before they ever met Leia and saved the galaxy. Donald Glover will play Lando Calrissian, Woody Harrelson as Beckett, and Emilia Clarke as a character named Kura, according to Syfy.com.
Ehrenreich said that he is "very, very excited" to be playing a young Han Solo, according to the BBC. He added that he got the part after the production team auditioned over 3,000 actors and that he auditioned for about six months. "The coolest part of the audition process was I went on the [Millennium] Falcon," he told the BBC.
Glover told The Hollywood Reporter that it was a little awkward on set, explaining:
Ron is such a legend, and he knows exactly what the vision for what he is doing is. … [But Phil and Chris] hired us, so you sort of feel like, "I know I'm not your first choice … ," and you worry about that. To be honest, I don't know exactly what happened. I feel like I was the baby in the divorce, or the youngest child.
Star Wars fans are notoriously picky, so hopefully things weren't as hectic as the young Lando makes it sound. And fans are curious about what to expect, at least on social media. Other than the title reveal from Howard and the cast announcements, fans really have not much else to go on. But what could possibly be bad about a Han Solo standalone movie?
Check out Romper's new video series, Romper's Doula Diaries:
Watch full episodes of Romper's Doula Diaries on Facebook Watch.