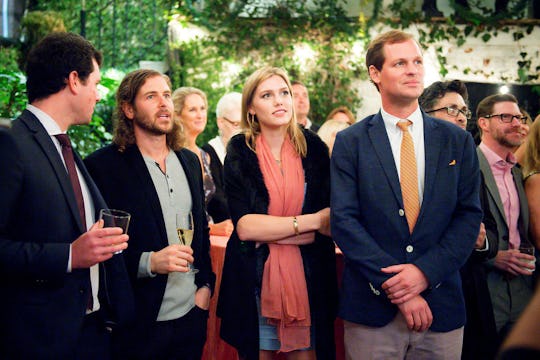 Marcus Ingram/Bravo
Fans Are So Ready For 'Southern Charm: Savannah' Season 2
If you're sad to see Southern Charm wrap up, never fear because Savannah's most entertaining crew is bringing their peachy charm and lavish lifestyles back for a second season. But exactly when does Southern Charm: Savannah Season 2 premiere? Fans can't wait to dive back into the fascinating lives of Georgia's elite.
Get your popcorn, wine, and DVRs ready, because the second season of Southern Charm: Savannah premieres on Monday, July 16 at 10 p.m. ET on Bravo. Catherine Cooper, Daniel Eichholz, Hannah Pearson, Louis Oswald, and Lyle Mackenzie will all be back, along with a few new faces as well. In a press release, Bravo revealed the addition of two new charmers, Hagood Coxe and Brandon Branch, who both have deep roots in the South and are notable figures in Savannah's bustling social scene.
Hagood, according to Bravo, comes from a traditional southern family — which actually owns the largest rice plantation in the state. She is in the middle of starting her own business, in which she plans to use her family's rice crops to create her own brand of sake. But because her parents might not be on board with her entrepreneurial idea, she is conflicted about how to move forward. In her bio, Hagood is described as, "the true meaning of a modern Renaissance woman" and revealed that she has talents in art and design as well. The bio notes that she is "trying to figure it out as she emerges herself with the new group of friends."
Brandon Branch, on the other hand, is a well-established interior designer, with a clientele that includes some of the highest society elites in Savannah. After growing up on a farm in Mississippi, Brandon now lives with his husband, Jim, in a beautiful town home in downtown Savannah where he hosts elaborate parties for the elite. Brandon's Bravo bio says he is "no stranger to ruffling feathers and speaking some harsh truths," but adds that "he always comes from a good place and is a master at navigating this town and its social politics." On his own website, Brandon revealed that he's been on TV for quite sometime, appearing on shows like The Today Show, the Rachel Ray Show, and Extra. He even once worked with Trisha Yearwood on HGTV's Celebrity Holiday Homes to give her home some unforgettable southern holiday flair.
Along with getting to know the new faces, Southern Charm: Savannah Season 2 catches up on the lives of the favorites from Season 1. The last time viewers saw Catherine Cooper, she had rejected a marriage proposal from boyfriend Lyle Mackenzie, so it will be interesting to see where their relationship stands now. There's also the question of whether or not Hannah Pearson and Louis Oswald's relationship will last, as they were busy focusing on their own businesses and careers. And of course there's all that family drama that surrounded Daniel Eicholz as he tried to separate himself from the family business to branch out on his own. I'm looking forward to seeing if his family has softened up since then.
Noticeably absent from the official line-up is Ashley Borders, who turned out to be a Delta employee by day, socialite by night and last season's breakout star. In the finale of last season, she brought her marriage to Dennis to an end. In a 2017 interview with Bravo she revealed that it was difficult to watch her relationship end on TV, especially because her son is part of the equation. She discussed how life-changing divorce can be, with all the logistics that need to be reworked. Going through a divorce with a child can be tough, so I can understand why she might not want the whole journey to be documented on TV, and it could be the reason she isn't returning for Season 2.
But even without Ashley, from the previews it looks like Season 2 is going to be a doozy.