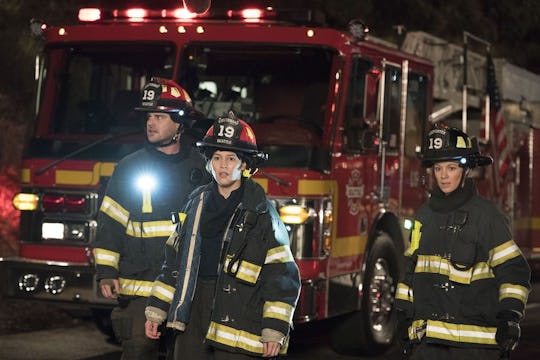 Mitch Haaseth/ABC
Make Sure You Don't Miss The 'Station 19' Series Premiere
Shonda Rhimes' "Thank God It's Thursday" programming is finally back this week and begins with an all-new episode of Grey's Anatomy. However, this isn't your regular Grey's episode; it also serves as a backdoor pilot for Rhimes' new series and the Grey's spin-off, Station 19. With the special episode airing this Thursday, many fans are wondering when does Station 19 premiere? Unfortunately, you'll have to wait a little bit longer to see these characters again.
Although the backdoor pilot is happening this week, Station 19 won't officially begin until its series premiere on Thursday, March 22. The show will begin with a two-hour premiere starting at 9 p.m. ET, and then continue airing on Thursdays at 9 p.m. throughout its 10-episode season. Scandal, which currently airs at 9 p.m., will be pushed back to 10 p.m. beginning on Thursday, March 29.
The new series is Grey's second spin-off, the first being Private Practice, which ran for six seasons and wrapped in 2013. It was also where most Grey's fans met Amelia Shepherd before she moved over to Grey's. While Dr. Addison Shepherd, Derek's ex-wife, was the lead on Private Practice, the lead on Station 19 is an all-new character, who will be the main focus of Thursday's Grey's episode.
Rosewood star Jaina Lee Ortiz plays Andy Herrera, the newest heroine in Shondaland. In the episode, she will arrive at the hospital with her hand inside the body of a boy, keeping his blood on the inside. Many fans have pointed out this is very similar to the two-part bomb storyline from way back in Season 2 of Grey's, in which Meredith stuck her hand inside a man's body who had a bomb inside him. Unfortunately, that didn't exactly end well, so hopefully there's a better outcome for this particular case.
Although Andy is the lead on Station 19, Ben Warren is the real jumping off point for the spin-off. During the Season 13 finale, Ben decided to run into the hospital that was burning down so he could find Stephanie and her patient. This was the inciting moment that made him decide to leave Grey Sloan Memorial Hospital and become a firefighter. Though his wife, Dr. Bailey, wasn't at all pleased about the idea at first, she's now come around and in Thursday's episode Ben will be arriving at the hospital with Andy as a firefighter, not a fellow doctor.
As this backdoor pilot illustrates, there is great potential for a number of crossovers between the two series. Unlike Private Practice, which took place in Los Angeles, Station 19 is also set in Seattle, Washington. Station 19 showrunner Stacy McKee told The Hollywood Reporter that Station 19 is "Grey's adjacent" and that there's "a lot of potential for cross-pollination." She also said they'd be happy to have crossovers with the characters or places in Grey's in "small ways or big ways." So perhaps will see some firefighters appearing in Joe's bar, which is actually called Emerald City Bar, sometime in the future.
Whether there are a number of crossovers between the two series or only a few, Station 19 definitely looks like another great addition to the TGIT line up. There appears to be the same level of drama, love, and attempt at saving lives that we see all the time on Grey's, just in a slightly different setting. It'll be great to meet and fall in love with a whole new cast of characters and see where this show goes.
Grey's Anatomy returns Thursday, March 1 at 8 p.m. ET and Station 19 premieres on Thursday, March 22 at 9 p.m. ET on ABC. Don't miss it!
Check out Romper's new video series, Romper's Doula Diaries:
Watch full episodes of Romper's Doula Diaries on Facebook Watch.