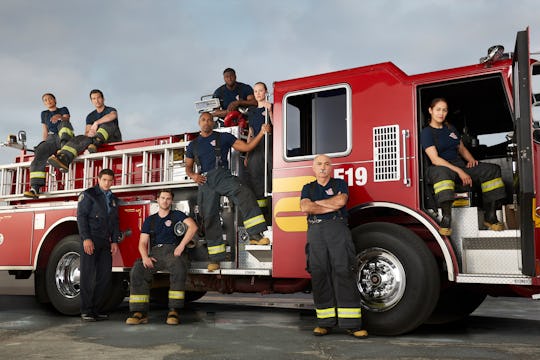 ABC/Ed Herrera
Here's When ''Station 19' Will Return, So Mark Your Calendars Now
As the air grows colder and the smell of baked goods becomes more frequent, your favorite shows become non-existent, even if only for the holidays. It hurts, I know. And if you're a dedicated Shondaland fan, you'll have more than one void to fill; there will be three. Gasp! So when does Station 19 return after the fall hiatus?
By now, you're probably aware that all of Shondaland Thursday (Grey's Anatomy, Station 19, and How to Get Away With Murder) will air mid-season finales this Thursday, Nov. 15 beginning at 8 p.m. ET, on ABC. That means no new episodes until the holidays conclude. I can almost hear the collective booing, but it is what it is, my friends. If you need good news to cling to, mark your calendars for Thursday, Jan. 17, 2019 at 9 p.m. ET. That's just after Grey's Anatomy returns (at 8 p.m.), so it's likely Station 19 will follow suit and all that is Shondaland will resume in its entirety (and your heart will feel complete again).
Before you get ahead of yourself, there's still the mid-season finale to look forward to in a Grey's/Station 19 cross-over event about a windstorm. The official Station 19 episode synopsis states:
As the team gathers for a Friendsgiving celebration at Dean's, a violent windstorm touches down in Seattle. As the storm picks up speed, creating dangerous fire conditions, the crew must put the festivities on hold and report for duty, leaving some of them in a life-threatening situation.
Looks like the Seattle firefighters will have their hands full (again).
Last Thursday's episode centered around a few mostly ordinary scenes with nothing super major to report. Considering what their job entails, this is a good thing. They broke through a wall, helped a woman get her hand out of a garbage disposal (yikes), and a few other seemingly minor interactions that perfectly set-up the impending storm. Station 19 is performing well, as it should, sandwiched between two mega-hits. In fact, it reached record-high ratings in October, prompting ABC to pick up the show for a full season. Yep — that means the 13 scheduled episodes will now be 22. The average rating of the first two episodes of Season 2 drew in 7.9 million viewers, so yeah — give the people what they want (more Station 19).
In the meantime, if you're not sure what to do with the TV break, ABC will air holiday, family-friendly shows on Shonda Thursdays instead. For instance, 20/20 will feature a turkey day behind-the-scenes special of Mary Poppins Returns in the Grey's 8 p.m. ET slot before it airs around Christmas. Station 19's usual time will feature Meghan's New Life: The Real Princess Diaries, and 10 p.m. will air I'm Coming Home — a show about celebrities returning home to reconnect with loved ones. So even if you're missing all of Shondaland Thursday, there will be plenty of holiday cheer to make up for it. That has to count for something, right?
I'm sorry to be the one to give you all the "your favorite shows won't be back for a long time, but at least there's holiday cookies" news, but the time will fly. You probably won't even notice how many weeks have passed by the time Station 19 returns. OK, so maybe you will. There's always reruns and holiday leftovers to keep you company until January.
Editors note: A previous version of this post misstated the date of the Grey's Anatomy return. It has been updated.