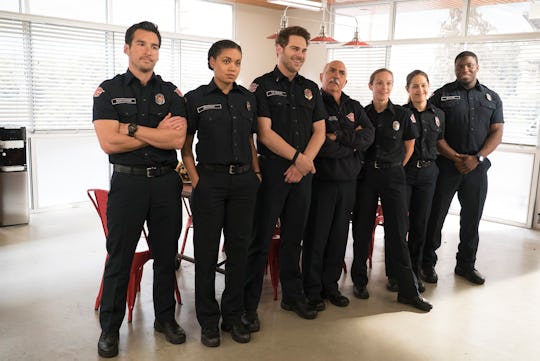 Eric McCandless/ABC
Fans Of 'Station 19' May Not Have To Wait Too Long For Season 2
May is both a great and terrible month: summer is approaching, but that means our fall TV shows are coming to the end for the season. Station 19 is no exception, but fans shouldn't worry: it'll be back for Season 2. But when does Station 19 Season 2 premiere? Fans of the series won't have to wait too long for its return.
Station 19 is a spinoff of Shonda Rhimes' first hit, Grey's Anatomy. The show follows a team of firefighters in Seattle Fire Station 19. In Seattle, firefighters are also trained EMTs — so there's definitely some Grey's Anatomy-like action that goes down. On May 11, Station 19 was renewed for a second season, and the finale airs on Thursday, May 17.
Deadline reported that it wasn't an "out-of-the-gate" hit for ABC or Shondaland, but it does have a solid average of around five million viewers per episode. In fact, Variety reported that Station 19 may have had the best Shondaland pilot since that of Grey's Anatomy. This is also Shondaland's first venture into talking about firefighters. Doctors and lawyers? Check and check. Why firefighters? In an interview with TVLine, co-showrunner Stacy Mckee gave the rundown on Station 19. "I had a long list of possibilities," she said about the show being about firefighters. "I went in to talk to Shonda [Rhimes] and Betsy [Beers, producer] with the list in my hand, but the first one I pitched was firefighters and we never got to the rest of them."
While there are a ton of medical and legal dramas out there, there aren't many about firefighters. In fact, there's really one I could think of (and that Shondaland folks could think of too, apparently): Chicago Fire. When asked about competing with the show, Mckee said, "There are a million medical shows; there can be a million fire shows. If the shows are compelling, why not have more than one?" AMEN. Mckee went on to say that it was never a concern and, "I just knew the [firefighter] world would work really well in conjunction with the already established world of Grey's Anatomy."
In her interview with TVLine, Mckee also mentioned there were no official announcements about a Station 19 and Grey's Anatomy crossover, but seeing as there will be a Season 2, it's definitely a possibility. "We are looking at more dynamic interplay between the 8 and 9 o'clock hours," said ABC Entertainment president Channing Dungey during the network's upfront presentation when unveiling the TGIT lineup for next season. Grey's will air at 8 p.m. ET and Station 19 will air at 9 p.m. ET., just like it does now.
But now that the news is out about Season 2, when does it actually return to our TV screens? There hasn't been an official date released yet, but looking at its predecessor, Grey's, it may follow the same pattern. Grey's premiered in March of 2005 with a pretty small Season 1. It came back that September with a longer season. This may be the course of action with Station 19. It premiered in March and had a short season considering that most shows air in the fall, and will probably make its comeback in the fall (around September) as well.
It's not set in stone, but Rhimes definitely knows what she's doing; she might use this "short Season 1 with a spring premiere date, longer Season 2 with a fall premiere date" to access how a show is doing. While Station 19 wasn't a breakout hit, the break may encourage new viewers to watch and catch up — and the short first season makes it so easy too. But longtime and potential viewers can be assured that they will see a Station 19 Season 2 sometime soon.