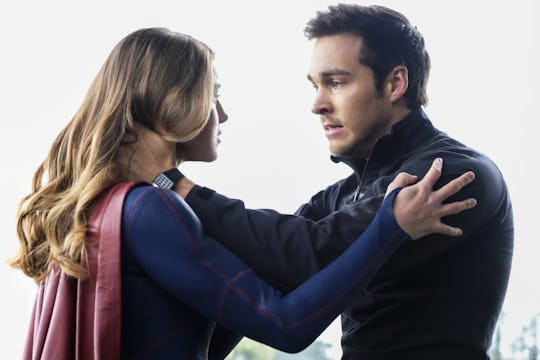 Bettina Strauss/The CW
'Supergirl' Needs To Return Faster Than A Speeding Bullet
As the days start to get warmer and longer, that only means one thing: your favorite shows are coming to an end. Thankfully, at least for most of them, it's only temporary. Still, it's always tough when a show goes on hiatus, especially if the season ends on a cliffhanger and it looks like Supergirl's Season 2 finale just might. It's no surprise then that fans are already wondering when does Supergirl return for Season 3? Although the superhero series already got renewed, the release date for the third season has, unsurprisingly, not been released yet.
However, The CW did announce their fall schedule and Supergirl will remain in it's current time slot of Mondays at 8 p.m. Based on that and the fact that both the first and second seasons premiered in October, it seems fair to assume the show will return somewhere around Oct. 9 or 16. Unfortunately, this is a bit of a wait for fans, but based on this season the wait will probably end up being totally worth it.
Since the comic-based show jumped ship from CBS to The CW to join the other DC comic shows (Arrow, The Flash, and Legends of Tomorrow), the show has only gotten bigger and better. The new season has seen the addition of plenty of new characters, including a new love interest for Kara in the form of Mon-El (Chris Wood) and the first appearance of Kara's famous cousin (you may have heard of him), Superman (Tyler Hoechlin). As if that wasn't enough, Season 2 also saw Kara's sister, Alex, go through an incredible coming out story that has resonated with numerous fans.
Supergirl also participated in the epic DC Crossover week, which saw all of The CW's superheroes come together in a four-day-long epic battle against aliens, and not the cool kind like Kara. Kara & Co. also crossed over to The Flash for a special musical episode and that even came with it's own album.
To say Season 2 was a big step up from the first season is an underestimate. That's not to say the first season wasn't already amazing, but if you didn't continue on to Season 2 you absolutely are missing out. For those fans who already know how amazing this show is, you can bet they're already anxiously awaiting to see what happens next with Kara, her family, and her friends.
For now though, fans are focused on the epic Season 2 finale, which will air on Monday, May 22 at 8 p.m. ET. The finale will see a showdown between Kara and her cousin that you certainly won't want to miss.