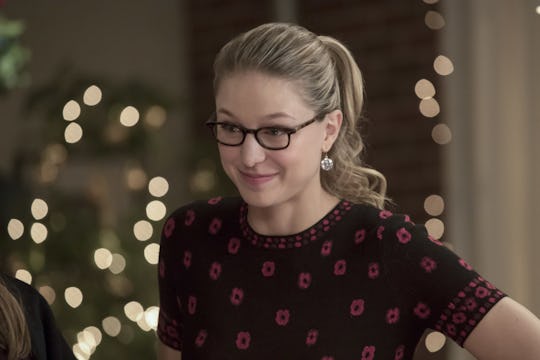 Jack Rowand/The CW
'Supergirl's Return Needs To Be Faster Than A Speeding Bullet
Kara has already been through a lot this season so it seems only fair for her to get a little break. Monday night is Supergirl's midseason finale, which is filled with holiday cheer, and after that fans won't be seeing a new episode until the coming year. So when does Supergirl return from its winter hiatus? Thankfully, the break won't be for too long.
I'm pleased to inform you that Supergirl returns on Monday, Jan. 15 at its regular time of 8 p.m. EST. So the hiatus will only last a little over a month, which isn't too long, thankfully, because this midseason finale looks like it may be a doozy. Although there will definitely be a holiday celebration, Kara's still learning more and more about what Mon-El was up to since he's been away.
As you may recall, even though Mon-El was only gone for six months in Kara's time (six episodes in our time), he was actually taken into a worm hole and for him seven years have passed. During that time, he fell in love with someone else, Irma/Saturn Girl, who is now his wife. Don't worry though, he said he never forgot about Kara... he just felt like he had to move on after all that time apart, uncertain if he'd ever see Kara again. Is it understandable? Sure, but still not great news for Kara (or any of us).
To make matters even more complicated, in a sneak peek of tonight's episode, it reveals that Mon-El wasn't just busy falling in love, he also started a group of superheroes called the Legion, which was all inspired by Kara.
If you're unfamiliar with the Legion, it's a group of superheroes that exist in the 31st century, which is presumably where Mon-El was time jumped to when he went through that worm hole at the end of the last season. In the clip, which was exclusively shared by Entertainment Weekly, Irma basically fan girls over Kara, thanking her for being such an inspiration over the years. She also mentions how happy she is to have the opportunity to meet Kara, which, unfortunately, isn't a feeling Kara shares. It's always awkward to meet your ex's new wife, but it's even worse when they're your No. 1 fan.
Besides this new revelation, Kara is faced with investigating a strange symbol that's begun popping up all over National City. Apparently, the symbol is tied to an ancient prophecy and it's the mark of the World Killer, also known as Reign. Unfortunately, Reign isn't some stranger to Kara, but someone she already knows. However, will Kara discover the true identity of Reign in the finale or will it continue to be a mystery that needs be solved when the show returns? You'll just have to watch and see.
Though the finale will certainly be filled with a battle or two, there may also be a bit of romance in the air. As the tension between Lena Luthor and Morgan Edge continues to build, James will stop in to try and keep the peace. However, while trying to protect Lena, sparks may just fly between them. Even though I know Kara's all wrapped up in Mon-El right now, seeing James fall for Lena is not something I signed up for this season. Still, don't be surprised if you see James and Lena kissing under the mistletoe this evening.
Lastly, Kara's not the only one still recovering from heartbreak. Alex recently ended her engagement with Maggie because she wants kids and Maggie doesn't. Still, despite knowing it was the right decision to break up, it didn't make it any less heartbreaking (for Alex or for viewers at home). While Alex is, of course, an independent woman who doesn't need to be in relationship, I hope she gets to kiss someone under the mistletoe too.
The Supergirl midseason finale airs tonight at 8 p.m. EST on The CW.
Check out Romper's new video series, Romper's Doula Diaries:
Watch full episodes of Romper's Doula Diaries on Facebook Watch.