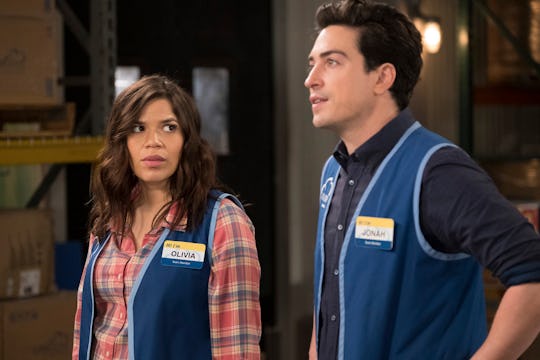 Colleen Hayes/NBC
Here's When You Can Expect 'Superstore' Season 4 To Premiere
The third season of Superstore is coming to a close and a lot has gone down this season, which means the season finale could be a pretty big deal. As fans prepare for a possible cliffhanger, the one question that's undoubtedly coming to mind is: when does Superstore Season 4 premiere?
Thankfully, the hit comedy series has already been renewed for a fourth installment, so more episodes are definitely coming, though an official premiere date has yet to be set, though that's to be expected. NBC probably won't announce its fall schedule until sometime this summer. For now though, it seems best to guess that the new season will arrive sometime in late September, similiar to the premieres of Season 2 and Season 3. If the show continues to air on Thursday nights, it will probably debut on Sept. 27, though this is all just pure speculation for now. The best way to know for sure when Superstore will be back is just to keep an eye out for NBC's fall primetime schedule.
But before you jump ahead to Season 4, there's a lot to discuss about the upcoming season finale. The show's will-they-won't-they couple Amy and Jonah finally kissed this season, but if you thought that meant they were finally going to be together, you were sadly mistaken. It turns out Amy's actually pregnant and in the penultimate episode she revealed her ex, Adam, is the father. Naturally, Jonah didn't take the news well.
Amy didn't help matters when she basically then told Jonah that the kiss didn't really have anything to do with him, but she was just in a really emotional place. He didn't want to hear any of that either. When Amy again tried to speak to Jonah later that's when her pregnancy secret totally came out. Not only did Adam find out, but Amy's boyfriend, Alex, did too. Needless to say, Alex ended the relationship pretty much on the spot, but was anyone really rooting for them anyway? #TeamJonah
However, Jonah and Amy just can't seem to have a real conversation. When Jonah tried to find Amy to apologize for blowing her off, she no longer felt like talking, which led to more tension. The two ended up in a fight and in the end, Jonah left the store with his girlfriend, Kelly, who he promptly breaks up with after she told him she loved him. Ouch!
Well at least now both Amy and Jonah are single, though they're still a ways away from a happily ever after. Still, just because Amy's pregnant with another man's baby doesn't mean she and Jonah can't be together. It'll just make their relationship a bit more complicated. But are Amy and Jonah really up for that? It's hard to say. Fans are certainly hoping that by the time the season finale comes to a close Jonah and Amy will be a couple but that might be wishful thinking. Even so, viewers have been waiting a long time for this and though their kiss was great, fans want more.
There isn't too much information about the finale, according to the synopsis Amy and Jonah will have to team up to prepare their co-workers for a company-wide town hall meeting in which they will confront the CEO. Since they just had a fight, this will surely be difficult for them but fun for us to watch. Additionally, Glenn will struggle with the task of speaking to a global audience.
It seems anything can happen in the Season 3 finale, so the only way to know how it'll play it out is to tune in. Superstore airs on Thursday, May 3 at 8 p.m. on NBC.
Check out Romper's new video series, Romper's Doula Diaries:
Watch full episodes of Romper's Doula Diaries on Facebook Watch.