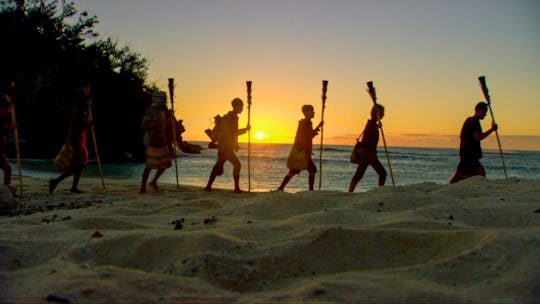 CBS Entertainment
Here's Everything We Know About 'Survivor' Season 37 -- So Far
Though Survivor: Ghost Island has only just concluded, the series (in all its iterations) will be back before you know it with yet another variation on its central premise. It was already renewed by CBS with Jeff Probst returning as host, but when does Survivor Season 37 premiere? How long will the wait be?
Inside Survivor reported that Season 37 was filming in Fiji's Mamanuca Islands in April 2018, and that it would likely debut in fall of the same year, which would allow time for editing and any other post-production concerns to be addressed. Shortly after, the site reported that the theme for the upcoming season would be David vs. Goliath, an intriguing indication of the direction the episodes might take. Nevertheless, this news should be received with a grain of salt. Inside Survivor stated the information had been verified "with multiple sources," but there hasn't been an official confirmation from CBS. Until there is, it must all be considered speculation. It seems likely that more information won't be made available about Season 37 until it gets closer to the premiere.
But theorizing is a good way to pass the time until then. Inside Survivor provided a little more information on the theme they reported, and it could be very plausible.
According to the site, the potential theme of Season 37 will unfold as follows:
The "Goliaths" are defined as those who have attained great power or achieved huge success, whether in their careers or personal lives. The "Davids" are said to be a tribe of underdogs, people that are underestimated or undervalued. It's not necessarily about physical strength.
If that ends up being the path the upcoming season follows, then it could be an interesting idea for the show to explore. It would allow for some unexpected developments while determining what kind of skills really are the most beneficial ones to have in the world of Survivor. It might also result in some surprising alliances and unforeseen dilemmas, which is par for the course with this show. However, please remember that this theme has yet to be confirmed by CBS.
While the exact premiere date of Survivor Season 37 is currently unknown, one can try to figure it out based on the past few seasons. The show has been on TV for quite some time -- since 2000! -- and it generally falls into a predictable pattern. Seasons of the show alternate airing in the spring and fall, with the spring seasons often starting in February and March. The last five autumnal seasons all began in late September: Heroes vs. Healers vs. Hustlers dropped its first episode on September 27; Millennials vs. Gen X was on September 21; Cambodia — Second Chance premiered on September 23, and so on and so forth.
If that holds true, then Season 37 will likely also begin in late September 2018. That would match up with the reported filming schedule as well. But that's also conjecture; the only guarantee is that the show isn't going anywhere any time soon. As Probst told Variety, "As long as people show up, we'll continue to take a few leaps and have fun. I'll just need someone to push me around in a rocking chair."
Fans of Survivor can rest assured that the show will be back, though there will be a few months in between the end of Ghost Island and the start of the new season. Still, the wait should be a little bit more bearable knowing that there will definitely be another season to enjoy and then another one after that. Your Survivor needs are met for the foreseeable future, so you can kick back, relax, and wait for each new season to dazzle you with its brand new twist on the competition.