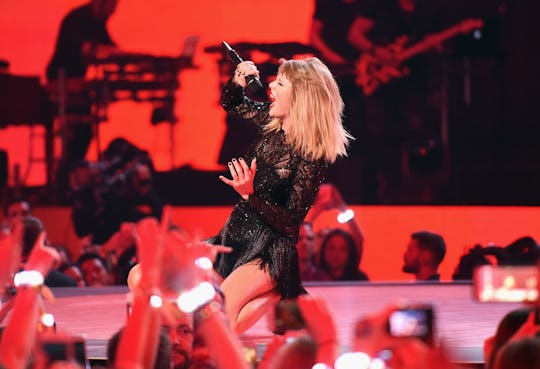 Kevin Winter/Getty Images Entertainment/Getty Images
Taylor Swift Is About To Drop A New Album
The meaning behind Taylor Swift's mysterious Instagram snake videos has finally been revealed, but now there are more questions for fans anxiously awaiting the pop star's new album. First things first: When does Taylor Swift's Reputation album come out? It won't drop until November, unfortunately, but fans can expect to hear a sample of it much sooner than that. According to a flurry of Instagram posts shared on Wednesday afternoon by the singer herself, the album's scheduled to be released on Nov. 10, and the first single will arrive on Thursday night.
Fans knew something was up when Swift's website and social media accounts were scrubbed of all content on Friday, which just so happened to be the three-year anniversary of the day she announced her 1989 album and released the first single, "Shake it Off." On Monday, she shared a single post on both Twitter and Instagram: a twitchy clip of a snake's tail that looks like an outtake from The Ring. The snake's coiled middle followed on Tuesday, and on Wednesday morning, the head. Her website remained black, although some fans are claiming that it periodically switches to white, if you have literally nothing else to do besides stare at a blank screen.
Finally, early Wednesday afternoon, Swift stopped driving her fans crazy and shared some actual information. "First single out tomorrow night," the initial post read. The second appears to be an album cover, and the third announced Reputation's fall release. No additional details were provided regarding the single, but rumor has it the title is "Timeless." This claim originated on the crowdsourced lyrics website, Genius, where a user created a page for "Timeless" and claimed that the title had been registered in Swift's name. However, that page no longer exists, and a quick search of the American Society of Composers, Authors and Publishers' database shows there's no Taylor Swift song by that name.
Fans have also been quick to point out that the website timeless.com bears the message, "Timeless Coming Soon," but in the absence of any supporting evidence, there's no reason to suspect that it has anything to do with Swift. The site was last updated on July 13, and it's registered through an anonymous proxy service. Of course, anything's possible; Swift may have created a website dedicated to one single song. She may have registered its title with ASCAP, and then demanded they remove it from the searchable database when some sneaky snake discovered it. But maybe fans would be better off just waiting patiently for the next 30-odd hours, because once that song is available, there's no doubt Swift will let them know.