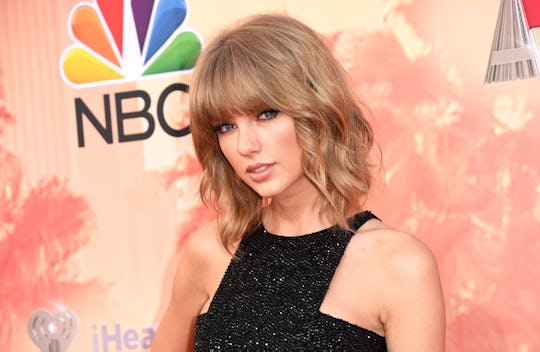 Jason Merritt/Getty Images Entertainment/Getty Images
When Does Taylor Swift's Single Come Out?
If it feels like it's been far too long since you've heard new music from Taylor Swift, then you're in luck: the singer announced she's officially back, and ready to show fans what she's been working on with a brand new album. On Wednesday, the singer teased the album as well as a new single, so when does Taylor Swift's single come out? It'll still be a bit of a wait until her new album, Reputation, is released — according to People, it'll be out Nov. 10. But the first single will drop Thursday night, and fans are so excited.
It's been nearly three years since Swift's last album, 1989, was released, meaning that fans have had to wait longer than usual for new music from the mega-star (nearly every one of Swift's previous albums have been released within two years from the one before). But she gave her first hint that something big was coming last Friday when her various social media accounts were suddenly wiped clean, and on Monday, she shared a 10-second clip on Instagram of what appeared the be a snake's tail. It became the first in a series of cryptic, snake-themed Instagram posts, but on Wednesday afternoon, she finally pieced it all together, announcing a new single, the title and release date of her new album, and what looks to be potential cover art.
Aside from her recent sexual assault trial, where Swift earned praise for her assertive and unapologetic testimony against a man accused of groping her during a backstage meet and greet, it's been a while since her name has been in the headlines. And that was likely intentional: Swift told NME in 2015 that she planned to take some time off after her tour ended, and with the exception of, "I Don't Wanna Live Forever," her Fifty Shades Darker soundtrack collaboration with Zayn Malik, that seems to be exactly what she's done.
In May, however, E! News reported that Swift was gearing up for a return to the charts, and a source claimed that she'd spent the past few months in Nashville focusing on her new album. And judging by the reaction on social media following Wednesday's announcement, well, people are completely psyched about it:
As she was gearing up for her post-1989 hiatus, Swift told NME that she planned on being realistic with her expectations for her next album — which probably wasn't a bad idea, given how massively successful it was. When asked about it, she replied,
How could the next one be as big? Maybe the next album will be a bridge to somewhere else. Or maybe I'll just go ahead and change everything.
Now, fans will finally get a glimpse at the direction Swift's decided to go in with her latest project, and how she's changed it up over the past few years. But let's be honest: she's Taylor Swift. It might not be easy to top 1989, but then again, if anyone can do it, it's going to be her. And if the anticipation over her upcoming single is anything to go by, she's totally got this one in the bag.