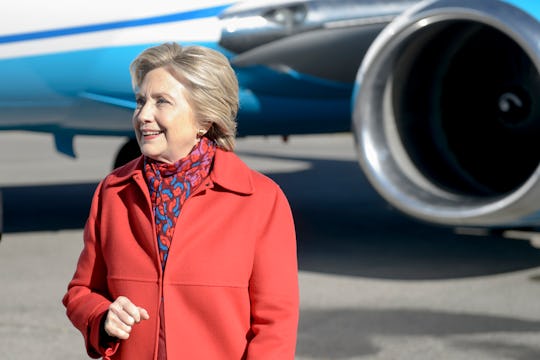 BRENDAN SMIALOWSKI/AFP/Getty Images
When Does The 2016 Presidential Election Coverage Start? You Don't Want To Miss A Thing
Though every presidential election brings with it its fair share of tension and anxiety, the 2016 presidential election feels particularly fraught. Though some of us (i.e., me) wish they could just wake up on Wednesday to find the entire situation has resolved itself, I know I'll be following every single little detail as it unfolds. So if you're planning on doing the same thing (while stress-snacking and biting your nails, of course), then you probably want to know when to tune in to your news station of choice. When does the 2016 presidential election coverage start?
Though the election has been in the news incessantly for months, the results of the vote are when things truly level up. Most networks are beginning their coverage on Election Night, but some are starting as early as the day before so they don't miss a second of the developing story. On top of the televised coverage, there are all sorts of other options when it comes to following the election results: social media provides possibly the fastest updates (with the most amusing gifs), there are several streaming options like Sling TV, and plenty of websites will be keeping their readers updated. You won't be able to escape the election.
ABC
Led by George Stephanopoulos, ABC's coverage begins at 7 p.m. (ET) and will run until 2 a.m. (ET), at which point a special election edition of Nightline will air until 4 a.m. (ET) Live streaming online coverage will also begin at 7 p.m. as well.
BBC
Election coverage on BBC World News begins at 4 p.m. (ET) on the day of, with special coverage live in Times Square starting at 6:15 p.m. (ET). The network will cover the election until 3:30 a.m. (ET).
CBS
Much like ABC, CBS's coverage will run from 7 p.m. (ET) until 2 a.m (ET) on Nov. 8, with their digital streaming coverage of the election beginning at 6 a.m. (ET).
CNN
CNN is one of many networks choosing to stream its coverage on its homepage and its apps. Coverage begins at 4 p.m. (ET) on election night and continues into the wee hours of the morning until 4 a.m. (ET).
FOX
FOX News Channel is planning to run live coverage of the election for 67 hours, starting Monday, Nov. 7 at 4 a.m. (ET). While they won't be able to reveal results until all the votes are counted, they'll be covering every minute of the election and then some all the way through the big reveal.
NBC News
NBC News will begin coverage at 7 p.m. (ET) on Tuesday, led by Lester Holt, Savannah Guthrie, and Chuck Todd. Tom Brokaw will also appear as a special correspondent, because he has covered every election since 1968.
MSNBC
Coverage starts on MSNBC at 6 p.m. (ET) with Rachel Maddow, Brian Williams, and Chris Matthews running the show.
PBS
PBS is beginning coverage of the election on Tuesday night starting at 8 p.m. (ET) and running until midnight, with Gwen Ifill and Judy Woodruff co-anchoring. The special will also stream on FaceBook, Youtube, and Ustream. Social media coverage of the election begins at 8 a.m. (ET)
Other Options
If TV coverage isn't your thing or you don't have access to a television, have no fear. Most major networks will provide coverage on their websites and you can also catch streaming coverage on Sling TV. There's also Twitter, where Buzzfeed will be livestreaming coverage and plenty of people will be sharing their own updates as they learn them. Failing that, starting at 8 p.m. (ET), NPR is also an option (both on the radio and their site), as is website Politico, which features interactive maps that show the results on a state-by-state basis.
It looks like you'll be able to find coverage of the election anywhere you look on Tuesday night, so you won't miss a thing.