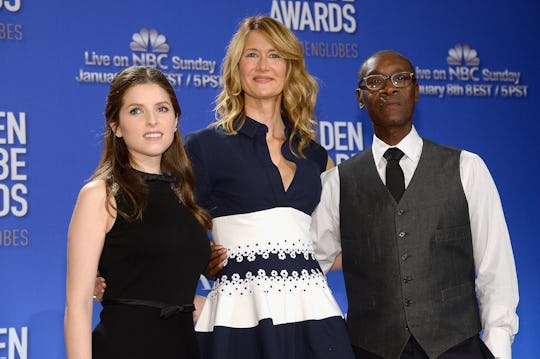 Kevork Djansezian/Getty Images Entertainment/Getty Images
Don't Miss Out On The 2017 Golden Globes
It's almost time for the first award ceremony of the year and fans everywhere can't wait. The Hollywood Foreign Press starts off the New Year with the 74th Golden Globes on Jan. 8. Unlike other award shows, the Golden Globes recognizes amazing work in both films and television, which means anyone who's anyone will probably be in attendance. While many believe they already know who'll walk away with all the awards (La La Land and Westworld) fans won't know for sure until they see it all happen live. To ensure you don't miss a thing, you'll want to see the show from the very beginning. So when does the 2017 Golden Globes start? The ceremony will begin at 8 p.m. ET on NBC.
This year, the Golden Globes will be hosted by The Tonight Show host Jimmy Fallon and though it's his first time hosting the awards show, there's no doubt he'll be great. The hilarious talk show has hosted the MTV Movie Awards twice, the VMAs once, and even hosted the Emmys back in 2010. (Remember how awesome that opening number was?) With The Roots band there to back him up, Fallon will definitely be able to keep viewers at home and in the audience engaged throughout what can sometimes feel like a very long show.
Besides the host, most people are tuning into the Golden Globes to see their favorite celebs in all their finery win (or lose) some of the biggest awards of the night. In film, La La Land, Manchester by the Sea, and Moonlight, lead the way in nominations and there's no doubt the cast, writers, and directors behind these films will be on the edge of their seats to see who walks away with the awards. In television, Westworld, The Crown, and People vs. O.J. Simpson, are expected to come out on top in various categories.
Prior to the ceremony, the Golden Globes red carpet will be flooded with A-listers and we can expect to see nominees Sarah Paulson, Sterling K. Brown, Gina Rodriguez, Octavia Spencer, Denzel Washington, and Winona Ryder, as well as presenters Ben Affleck, Nicole Kidman, Zoe Saldana, and Matt Damon. If you're interested in seeing the celebs walk the carpet, you'll have to tune in an hour early at 7 p.m. ET on NBC or 6 p.m. ET if you prefer to watch E! Live From the Red Carpet. Otherwise, make sure your TV is turned on at 8 p.m. ET sharp to catch the whole show in all its fantastical glory.