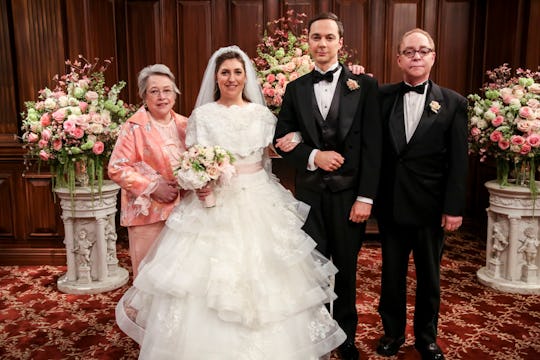 Michael Yarish/CBS
This Is When Fans Can Expect 'The Big Bang Theory' To Return For Season 12
The Big Bang Theory is closing out its eleventh season with a wedding and it's sure to be an interesting occasion considering it'll be Amy and Sheldon making their way down the aisle. While fans are excited about these long awaited nuptials, others are sad to see this season come to an end. So when does The Big Bang Theory Season 12 premiere?
Thankfully, after the show's tenth season, the series got a two-season renewal, ensuring that it would be back for Season 12, though there is no premiere date just yet. Fans can expect it to return sometime in the fall, though, probably in the second to last week of September, just like the past few seasons have done. If the show airs on Thursdays again, it'll most likely premiere on or around Sept. 20, but you'll have to keep an eye out for the official date when summer is coming to a close.
You may also want to keep an eye out for any news about Season 12 being the show's final season. According to Entertainment Weekly, after Season 12 the cast's contracts will be up again. If you recall, the original cast members — Jim Parson, Johnny Galecki, Kaley Cuoco, Kunal Nayyar, and Simon Helberg — reportedly all took pay cuts last year so that Mayim Bialik and Melissa Rauch could get raises with their new contracts and so the two season renewal could be secured. With contracts up again and the show still doing well, it's very likely there will be another round of negotiations for raises. But while fans may want to see the show go on forever, CBS may not agree.
If Season 12 does end up being the show's final season, executive producer Steve Holland told EW that there are "general plans" for how the show would come to an end. "But we really haven't sat down and done the nitty-gritty of talking about the specifics of what exactly needs to happen," he added.
That being said, Holland also noted that the writers do have a sort of checklist for stories that they want to do before the show comes to a close. Specifically, there will be some stories that answer questions fans often ask, but there are also some things Holland said the show will never address and will keep a mystery.
Whether or not the network decides to make Season 12 the final season, the show has had quite a run, and if Season 12 is where the story ends, at least fans will probably know that in advance, rather than it being a surprise later on. For now though, viewers can just focus on the end of this season, which should prove to be a fun episode.
Although there have been a number of weddings on The Big Bang Theory before, this one feels extra special, mainly because a lot of fans worried this day would never come. While Amy's love for Sheldon was always quite evident, in typical Sheldon fashion it took some time for before his feelings for Amy began to show. Now, seeing them actually getting married, is a little unbelievable. They've come so far and this is such a big moment for both of them.
Additionally, the wedding itself should be quite an event. Because the show has done a few weddings before, Holland told EW that they wanted to "go big," with this one. "This was our chance to top them just in terms of scope," he said. "I don't think we've ever had this many characters from this world on screen at the same time."
Those characters include Sheldon's mom, played by Laurie Metcalf, Sheldon's siblings, played by Jerry O'Connell and Courtney Henggeler, and Kathy Bates and comedian Teller as Amy's parents. Mark Hamill will also be popping in for the finale, though his role his been kept under wraps. Thus, this will certainly be a star-studded episode, and one you certainly won't want to miss.
The Big Bang Theory finale airs on Thursday, May 10 at 8 p.m. EST on CBS.