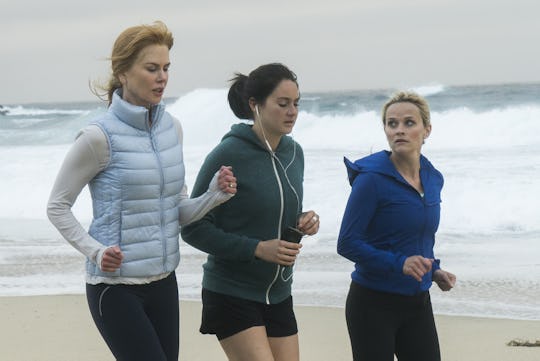 Hilary Bronwyn Gayle/courtesy of HBO
The 'Big Little Lies' Soundtrack Is Addictive
One of the (many) things that I love about Big Little Lies, HBO's first true hit series of 2017, is its killer (pun intended) soundtrack. Everything from the catchy AF opening theme song to the dozens of classic and alternative tunes that have been featured throughout the show's seven-episode season have been memorable and perfectly paired with whatever scene they're accompanying. That has left many viewers asking one very important question: when does the Big Little Lies soundtrack come out?
The series, set in beautiful seaside Monterey, California, uses a variety of songs to provocatively illustrate the show's various themes and the mindsets of its characters. Because it accompanies the action on-screen so well, many fans were eagerly awaiting news of a soundtrack for the show's featured music, something that could easily help the limited series "last" in our hearts and minds beyond its definitely-too-short-for-my-liking season.
Luckily, viewers didn't need to wait very long for the announcement or the release. Ahead of the show's finale (airing this Sunday night), various news outlets, including SPIN, announced that the series would be getting a soundtrack — consisting "primarily of neo-soul and R&B-informed singer/songwriters, both old-school veterans (Irma Thomas) and relative newcomers (Villagers)." That news broke on Monday. The given release date was Friday, March 31, meaning that the soundtrack is already available for purchase and download.
Based on the track listing of fourteen songs, it's clear that not every single song used on the show will be featured — which makes sense, since the series has used several songs throughout each of its seven episodes, far too many to include on an average-length album. But what is included on the newly-released soundtrack is an incredible selection of music, featuring artists like Charles Bradley, Martha Wainwright, Leon Bridges, and even including one song ("Don't") by series cast member Zoë Kravitz, who plays Nathan's new wife (and Madeline's one-sided enemy, of sorts) Bonnie.
The show's use of music is one of the things that's so uncommon about it and makes it so memorable. Big Little Lies takes the relatively unusual tactic of using in-scene music — meaning that we, as viewers, are hearing whatever the characters are actually playing in a given scene, not random music that the characters aren't "hearing."
That's largely thanks to Madeline's daughter Chloe Mackenzie, the little music-obsessed first-grader who has a more refined sense of sound than most of us adults, who often picks tunes ranging from classics to more recent pop songs. The songs included are all from the mind of director Jean-Marc Vallée. "Jean-Marc uses music like Jackson Pollock used paint," said Big Little Lies music supervisor Susan Jacobs, who worked with the director on choosing the songs for the series. "There is a lot of truth in the music of Big Little Lies."
Weaving music in with the story in such a way has made this show easily one of the best-scored TV series in recent memory, right up there with Westworld's instrumental versions of contemporary songs.