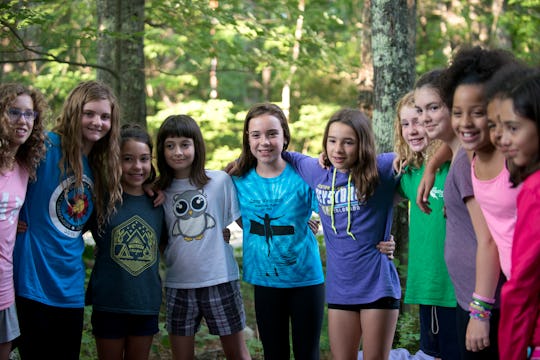 Disney Channel
'Bug Juice' Is Getting An Exciting New Reboot And Here's What You Can Expect
My favorite childhood TV shows all seem to be making a comeback with reboots like Lost In Space and Will and Grace. The newest of these rebooted shows is Disney's reality series, Bug Juice. That's right, get ready to go back to Camp Waziyatah to follow the campers on their summer journey filled with fun and friendship. So exactly when does the Bug Juice reboot premiere? No matter what your age, the series is sure to bring back some childhood memories.
The new series, Bug Juice: My Adventures at Camp, is set to premiere on Monday, July 16 on the Disney Channel and will continue airing the 16-episode season from Mondays through Thursdays at 7:30 p.m. EST. You can also watch episodes through Disney Video On Demand and the DisneyNOW app. The reboot will revisit the Camp Waziyatah campgrounds in Maine, where the original series was filmed in 1998, but will follow a new cast of kids as they adventure through their fun-filled summer. In a press release, the Disney Channel described the show as a series that chronicles "the summer camp fun and adventures of a new generation of girls and boys who, with the help of their counselors, explore exciting outdoor activities, form new friendships and create memories for a lifetime."
If you were a fan of the original series, you might be worried if the vibe of the show will change. But there's no need to fret, because it's being spearheaded by Evolution Media, the same production company that created the original — which aired for three seasons from 1998 through 2001. While the first season was filmed in Maine, the second and third seasons took place at Camp Highlander in Horse Shoe, North Carolina, and the Brush Ranch Camp in Tererro, New Mexico, respectively. I know it's wishful thinking, but I'd love for production to revisit these camps as well for any subsequent seasons of the reboot.
According to the Disney press release, you'll be seeing a lot of the same adventures the woodsy 130-acre Camp Waziyatah has to offer, including archery, horseback riding, white water rafting, water skiing, and musical theater. But there are also some new adventures this time around, including the "Blob" which is "a giant, inflatable blob that propels campers into the lake." This time around, however, the show will chronicle a cast of younger kids, from ages 10 through 12, whereas the original series featured campers over 12. Plus, as reported by Entertainment Weekly, the show will be full of fun animated emoticons, on-screen memes, and "boomerang" shots, to add a more modern and exciting flavor to the series.
Being a kid in a new place is not always easy, especially in this day and age of social media and bullying, so it will be nice to see a Disney version of real kids doing the right thing. The unscripted series follows these kids' journeys and viewers get to experience "the myriad of fun activities as well as the challenges the campers face, including trying to fit in, being homesick, swimming tests and the ups and downs of friendship," according to the press release. "Through it all, viewers see the resilience of the kids, the many ways they support each other and how they each come into their own through a summer of fun."
As far as reboots go, I think Bug Juice: My Adventures at Camp is going to inspire a whole new generation of kids to get outside, get active, and to socialize with support and respect. I'm definitely going to get my kiddos to tune in, and while I'm way too old for kiddie reality TV, I may just watch it to relive some childhood fun.