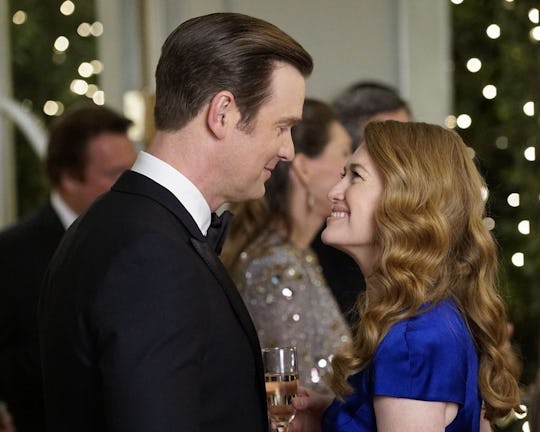 Kelsey McNeal/ABC
When Does 'The Catch' Season 2 Premiere? Fans Won't Have To Wait Long
Get ready Shonda fans! Come January every single one of Shondaland's shows will be back, including her newest show, The Catch. So when exactly does The Catch Season 2 premiere? Unfortunately, there's no specific date set just yet, but it will be back come January.
The first season aired earlier this year and pulled in a pretty strong fan base. The show follows the life of private investigator Alice Vaughan (Mirelle Enos) who was conned by her own fiancé, Ben (Peter Krause), after he stole millions of dollars from her. Using her skills, she tracked Ben down to try and get her money back, but that was easier said than done when she realized she was still in love with him. And to make things even more complicated — the feeling was mutual. Filled with endless cons, some murder, and British masterminds, it's no wonder that fans got sucked in, and with the way Season 1 ended, fans definitely want answers.
Alice's plot for revenge against Ben was short lived and she quickly forgave him for lying to her when it became clear that he really was in love with her too. Still, the people Ben worked for weren't just going to let him run off and have a happily ever after love story with Alice. Plus, there was a FBI agent hot on Ben's trail, who had very personal reasons for wanting to take Ben down.
However, by the time of the finale, Agent Jules Dao was the least of Ben's worries. Sybil, the mother of Ben's boss, Margot, was in town causing havoc, and everything came crashing down at a wedding because when isn't there drama at a wedding? Ben had actually double crossed Sybil, Margot, and Margot's brother, Rhys, a while back to work with the FBI and had a plan to run away with Alice by the time the wedding was over. Of course, this didn't go as planned. Ben, Alice, and Dao's plan was foiled by Margot and worse than that, before Margot skipped town she left a tip for the FBI that a stolen art piece was hanging in Alice's house. It was the very painting Ben stole for her early on in the season.
When Margot told Ben his love was on her way to jail, Ben hopped to action and confessed to the FBI that he was actually the one who stole the painting. The season then ended with Ben being taken away in handcuffs, leaving fans to wonder how he'll get out of this mess now. Thankfully, the wait for Season 2 isn't that much longer and we can finally get some answers regarding what's next for these star-crossed lovers.