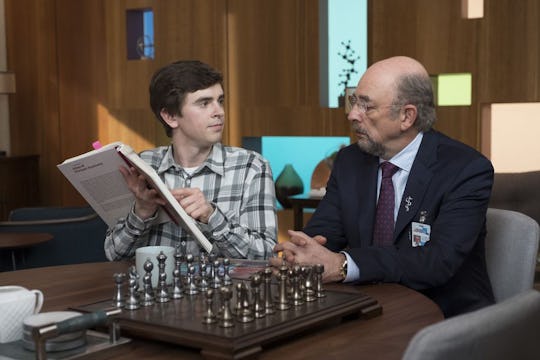 Eike Schroter/ABC
Fans Will Have To Wait Awhile For 'The Good Doctor' Season 2
It seems almost unbelievable that the season finale of The Good Doctor is already here but, unfortunately, it's true. Although it's hard to say goodbye, it's been a great first season and it's no surprise that the series has already been renewed for second installment. With the first season now coming to a close fans are, of course, already asking: when does The Good Doctor Seasons 2 premiere?
It's a bit too early to have an official release date just yet, but if the series stays in its same time slot fans can probably expect the series to return sometime in late September — I'm thinking perhaps on Monday, Sept. 25. However, this is just an estimate so make sure to keep an eye out for the official premiere date.
The Good Doctor stars Freddie Highmore as Shaun Murphy, an autistic surgeon with savant syndrome, who moves to California to work at a prestigious hospital. The series also stars Nicholas Gonzalez, Antonia Thomas, Chuku Modu, Beau Garrett, Irene Keng, Hill Harper, Richard Schiff, and Tamlyn Tomita.
Over the course of the season fans have watched as Shaun has stepped into his own as a doctor, becoming more confident about his decisions, but still sometimes faltering because of his lack of communication skills. The series has also given insight into the lives of the other doctors Shaun works with and their personal lives. Although Shaun has developed relationships with pretty much everyone he works with, he's most close to his mentor, Dr. Aaron Glassman. Unfortunately, the preview for the finale revealed that Glassman is dying.
Glassman has the most "aggressive form of brain cancer" and although he's accepted his fate, it's clear from the trailer that Shaun hasn't. He's determined to find a cure, which appears to infuriate Glassman who simply wants to accept the inevitable. However, is it possibly Shaun could actually do the unthinkable a find a cure for Glassman? On this show, it definitely seems like a possibility, so don't lose hope just yet. However, if Glassman doesn't survive, this could be a real turning point for Shaun.
Shaun has really grown a lot by working at the hospital and although he's struggled at times, for the most part, he's found his footing there. He's made friends, gained the other doctor's trust, and has done good work. But if Glassman dies this could set Shaun back, not only because of Shaun's inevitable grief but also because Glassman has been Shaun's number one supporter. Without his support, will other people at the hospital continue to look out for Shaun the way Glassman has? One would certainly hope so, but it's hard to know for sure.
Whether Shaun continues to have support or not, the loss of Glassman will be heartbreaking, not just for him but also for viewers who have loved the relationship between the two characters. Glassman is a big part of the series and fans won't be happy to see him go, especially after only having him for the first season. Although medical dramas have never been afraid to kill of characters (I'm looking at you, Grey's Anatomy) this just feels too soon. Fans just got to know these characters, so to lose one so soon would definitely hurt.
Hopefully, Shaun can pull off a miracle and make it so this isn't the end for Glassman after all. You can find out when the season finale of The Good Doctor airs on Monday, March 26 at 10 p.m. EST. This is an episode you won't want to miss.
Check out Romper's new video series, Romper's Doula Diaries:
Watch full episodes of Romper's Doula Diaries on Facebook Watch.