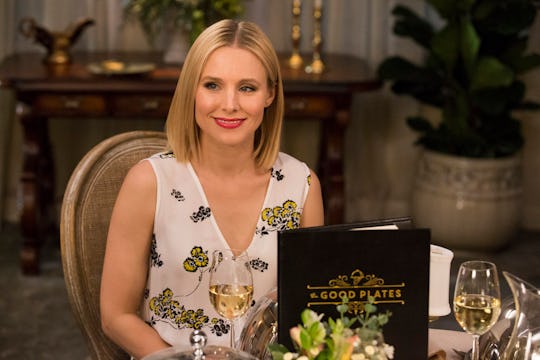 Justin Lubin/NBC
When Does 'The Good Place' Return? Season 1 Is On A Winter Hiatus
The holiday season is almost officially upon us, which means several things. You're probably mentally preparing yourself for dinner table conversations with Trump-supporting relatives, and you're deciding how to deal with the loss of your favorite shows, like The Good Place during the hiatus. So when does The Good Place return? You just have to get through a couple of months before you can get back to it.
The Good Place, starring Kristen Bell, is a comedy about how to get into heaven, and despite (or perhaps because of) some of the risks it took plot-wise, it's enjoyed steady high ratings and extremely positive reviews from critics. It premiered this year, coming from Mike Schur, the creator of the inimitable Parks and Recreation. The show's mid-way finale had 4.4 million viewers, a strong rating, going into the hiatus that will last two entire months, believe it or not. The Good Place will return to television screens on January 5, at which point everyone will finally get to learn what the fate will be of Eleanor's soul. Unlike anything else currently on television, The Good Place explores more deeply what exactly makes up a good person versus a bad person. Eleanor appears to be a bad person, but there may still be hope for her yet.
Television critics have praised The Good Place for its exploration of this concept, and creating a hilarious world that questions the general summation of a person's life. The best part of the show would be the categories that make up a good/bad person (tell a woman to smile -53.83, sing to a child +0.69) if it weren't for Bell's wonderful performance, which is amazing. While there was some debate among critics whether or not there was enough material there to create a lasting show that would continue to interest viewers, the fact that Eleanor doesn't appear to be the only one who mistakenly wound up in The Good Place instead of The Bad Place is a sign that there's more to be said here than originally meets the eye.
Everyone will have to wait and see if the show keeps it up after the hiatus ends in January. But considering the fact that Mike Schur is at the helm, the possibility seems likely.