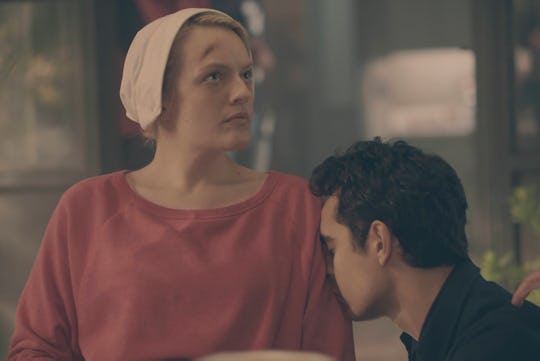 George Kraychyk/Hulu
Season 2 Of 'The Handmaid's Tale' Is Going To Be Even Darker
The first season of The Handmaid's Tale is already coming to an end and it's been quite a season. Fans have loved Hulu's adaptation of Margaret Atwood's classic dystopian novel thus far and some are even sad to see the first season come to an end. Thankfully, the show has already been renewed for a second season. So when does The Handmaid's Tale return for Season 2?
Unfortunately, there's no premiere date just yet, but fans can expect the new season to be released sometime next year. And if the second season premieres around the same time as the first, Season 2 may end up getting released as early as April 2018. (I know, this still feels very far away.)
As for what's to come when the show returns, don't expect things to get much better for protagonist Offred in the second season. Elisabeth Moss, who plays the character and executive produces the show, told The Pool that the second season will be even darker than the first, if that's even possible. "It's going to get worse girl," she said in the interview. "Season two is going to be bad too, really dark. Something to look forward to, yay!"
That's a little terrifying to think about, especially given how intense this first season was. From rape to abuse to topics that hit way too close to home in the current political climate, it's hard to imagine how much worse it can get. Moss guarantees it will though, and she would know.
What's most interesting about the second season is it'll most certainly go off book. The novel isn't that long and the show has already stepped away from the book a bit, so it'll definitely take even more creative liberties in Season 2. It'll be interesting to see how Offred's story progresses beyond the book's ending.
Showrunner Bruce Miller has already told Entertainment Weekly that the second season will explore other parts of Gilead and that the first season will leave a lot unresolved for the next season. So prepare yourselves for a cliffhanger in the Season 1 finale that will also probably be devastating. Miller remarked that the finale poses the question, "What happens when the terrible thing you've been dreading finally happens?" Well, that sounds very ominous. In terms of moving on from the book, Miller also promised that while the show will be moving beyond the pages, it'll still stay true to "Atwood's world and Atwood's tone."
You can see The Handmaid's Tale season finale, which is now streaming on Hulu.