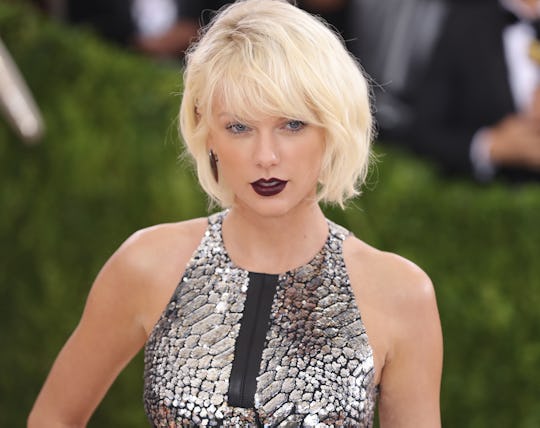 Neilson Barnard/Getty Images Entertainment/Getty Images
When Does The 'Look What You Made Me Do' Video Come Out?
Taylor Swift has always seemed to be a big fan of using her music to get the last word, but it now looks like she's ready to up her game: after releasing the first single from her forthcoming album, Reputation, Thursday, Swift announced on Instagram Friday morning that fans wouldn't have to wait long to see the video. When does the "Look What You Made Me Do" video premiere? Swift apparently intends to reignite two public feuds with one stone: not only does her new single appear to take aim at her long-standing beef with rapper Kanye West, she'll actually be dropping the video during Sunday's MTV Video Music Awards, hosted by Swift's other musical rival, Katy Perry.
Swift first gave a hint last week that something big was on its way, after her social media accounts were suddenly wiped clean. On Monday, Swift released the first in a series of cryptic Instagram video clips, showing partial footage of a snake, before announcing Wednesday that, yes, a new album was totally coming. Along with the first single, Swift released an animated lyric video, and it's pretty evident that she intends on taking zero prisoners with her new song. And if the preview for the actual full-length music video is anything to go by? Sunday's premiere is going to be one you won't want to miss.
"Look What You Made Me Do" seems to be a pretty clear attempt by Swift to call out West for his 2016 track, "Famous," in which he made headlines for including the line, "I feel like me and Taylor might still have sex/ Why? I made that bitch famous." When Swift publicly criticized West for the move, West's wife Kim Kardashian leaked audio of an apparent phone call between the music stars, according to Billboard, arguing that Swift was aware of the track ahead of time, and that she didn't seem to have a problem with it. Now, it looks like Swift is taking the opportunity to hit back the way she does best — with her music — and the glimpses of the video footage Swift has shared on Instagram seem to be equally as fierce.
The 30-second preview gives fans a taste of what is likely to come on Sunday, and from the looks of it, it could be the next stage of Swift's "Bad Blood," "Blank Space," 1989, IDGAF transformation. The cryptic Instagram snake appears to make its return, and the video's imagery is all long nails, diamonds and attitude. And just in case there was any confusion about Swift's intention for the video, the clip ends with a pretty specific warning: brace for impact. (Yeah, I'd say she's feeling pretty determined to leave a mark with this one.)
On the one hand, Swift's decision to premiere her new video at the VMA's makes a lot of sense: it's perfectly timed to build anticipation and make a big splash. But it also seems to be a way at driving home the song's message that she's no longer messing around. On "Look What You Made Me Do," Swift sings, "Honey, I rose up from the dead/I do it all the time," and "All I think about is karma." And if that weren't already clear enough, she then says, "The old Taylor can't come to the phone right now" because, well, "she's dead."
While the consensus seems to be that the track is aimed at addressing her feud with West, it also seems pretty fitting for her ongoing tensions with Perry — not to mention that it quickly puts to rest any lingering rumors that perhaps Swift and Perry were planning on burying the hatchet during Sunday's award ceremony. According to Us Weekly, fans had been speculating that the two would be reuniting onstage and performing together, but VMA producers denied the story. And now, Swift doesn't seem to be showing any intention of letting Perry overshadow her big moment.
According to Us Weekly, Perry recently told SiriusXM's The Morning Mash Up that she felt more than ready to move on from the feud with Swift, and said, "Listen, I'd love for the beef to end. I'd love to take it off the BBQ." But she also noted that he hadn't heard anything from Swift or her camp — and if "Look What You Made Me Do" is any indication, she might not want to bother waiting by the phone.
Reputation will be Swift's sixth studio album, and the follow-up to her hugely successful 2014 hit, 1989. And so far, it seems that she intends to continue down the dance-pop, throwback path she started down three years ago. On "Look What You Made Me Do," Swift once again collaborated with her 1989 producer-pal Jack Antonoff, and this time, the two took inspiration from the '90s (specifically Right Said Fred's 1991 hit, "I'm Too Sexy," according to The Guardian.)
On social media, the reaction to Swift's new song has been mixed, though even that seems to drive home the entire point of her new song, and likely her new album. After all, as much as the public seemed to be more than happy to help Swift rise up to become a beloved pop superstar, it seemed just as pleased to watch — and in some cases, celebrate — as she found herself getting criticized and called out as a result of her celebrity feuds.
But if there's one thing Swift seems to be saying with her new music, it's that she's no longer playing around, and that she's not afraid to stand her ground. And chances are, whether or not you're a fan of Taylor Swift, you'll probably be watching on Sunday to see her video. Which, of course, is exactly what she wants you to do.