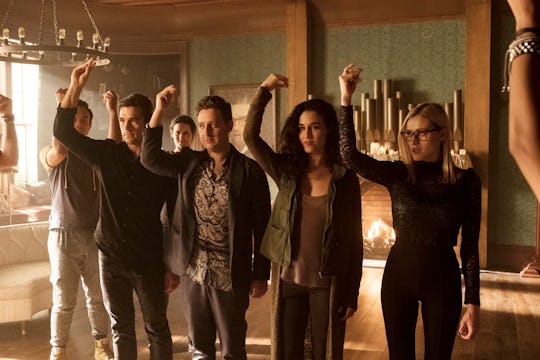 Eric Milner/Syfy
Here's When You Can Expect 'The Magicians' Season 4 To Premiere
The Magicians has performed consistently well since its premiere in 2015, but the ambitious third season of the SyFy series, based on the fantasy books by Lev Grossman, was especially outstanding. It gave us a musical episode, unlikely heroes, alternate timelines and universes, and an epic quest which shaped the narrative this season. Given the strength of Season 3, fans may be wondering: when does The Magicians Season 4 premiere? The good news is that the series has already been picked up for a fourth installment.
Season 4 was announced at the end of February, about halfway through Season 3's run. Officially, all we know is that Season 4, which consists of 13 episodes, will air sometime in 2019. The show is typically given a mid-season premiere, so fans can expect the new season to drop early in the year. Season 1 premiered in December of 2015, while Seasons 2 and 3 debuted in January. Season 4 of The Magicians will likely premiere sometime in January of 2019, as well. News of the Season 4 pick-up doesn't come as a surprise; the series has been one of SyFy's top-rated scripted original in the 18-49 demographic for the past three years. With past seasons of the show becoming available on Netflix, its fanbase is only growing.
Unlike, say, Game of Thrones, the trilogy on which The Magicians is based is complete, and Grossman serves as a consultant on the show. But that also means that there's a finite amount of storytelling to be done if the series hews closely to the books, which it hasn't for the most part. The TV adaptation plays fast and loose with the books' chronology, moving around narrative details to suit a multi-season television series. Said executive producer John McNamara in an interview with Inverse at New York Comic Con last year:
We keep in mind the core of the books — the characters, the values — and we keep Lev [Grossman] very involved...But at some point, you have to let yourself improvise because there are only three books and if we did it faithfully, it'd be a mini-series.
One of the strongest choices the show made is to tell the story as an ensemble narrative, rather than tell it from the perspective of Quentin Coldwater, who is basically the main character in the books. By fleshing out his cohort of Julia, Penny, Kady, Alice, Margo, Eliot, and — this season's breakout star — Josh, the television adaptation is better able to capture the vast universes of Brakebills, Fillory, and further (see what I did there?).
Plus, the cast is so multi-talented! It just makes sense to showcase them all. For example, this season, we got to see Jade Tailor's burlesque skills as well as hear more singing from the cast at large. Season 2 had one epic ensemble musical number, a riff on "One Day More" from Les Misérables. This season, we got a whole musical episode which easily rivaled, among others, the famous Buffy musical episode. And the quest at the center of Season 3 anchors the show with a well-structured narrative backbone against which to play around.
The Magicians has been criticized in the past for being too derivative of shows like Game of Thrones, Buffy, or even the Harry Potter films. But it's course-corrected even on that by throwing in a healthy number of self-referential jokes. (Seriously, I don't think Game of Thrones gets name-dropped as much on any other scripted show.) It's a series that's just getting better crafted with time and I, for one, can't wait to see what Season 4 brings.
Check out Romper's new video series, Romper's Doula Diaries:
Watch full episodes of Romper's Doula Diaries on Facebook Watch.