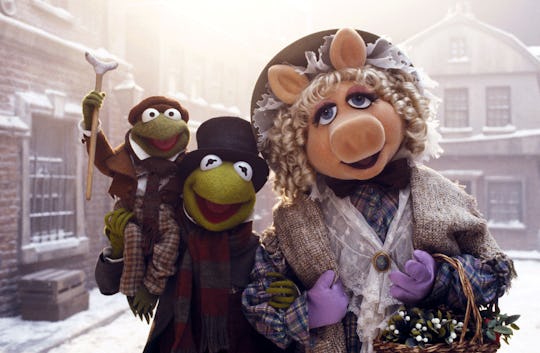 Walt Disney Pictures
When Does 'The Muppet Christmas Carol' Air? This Holiday Classic Is A Must-See
December is just about here, which means one very important thing: Thanksgiving and Halloween are both officially over, and the winter holiday season can officially begin. Between all-Christmas-all-the-time line-ups like Freeform's 25 Days of Christmas and Hallmark Channel's months-long Countdown to Christmas, our TV screens will be chock-full of fun and heartwarming holiday offerings, both new and old. One such classic is the virtually universally-beloved The Muppet Christmas Carol, which can typically be found on multiple channels throughout the entire month leading up to Christmas. But when does The Muppet Christmas Carol air this year and where?
Surprisingly, there are limited opportunities to watch this Christmas movie on cable in the coming month. In years past, it was consistently featured as part of the 25 Days of Christmas line-up (then on ABC Family, Freeform's previous name). That made sense, given that the film is a Disney movie (a Disney classic... did I already mention it's a classic?), and ABC Family/Freeform is a channel owned by Disney.
But this year, The Muppet Christmas Carol was missing from Freeform's 2016 Christmas line-up. For what it's worth, it also wasn't included last year, which seems to suggest that (tragically) Freeform might have moved beyond Michael Caine's Scrooge and his Muppet cohort.
But not to worry – The Muppet Christmas Carol is airing elsewhere this year. If you're planning on making time to watch the Christmas tale live as it airs on TV, you'll need to have a premium cable package. So far, the only channel that's confirmed it will be airing The Muppet Christmas Carol is HBO. According to HBO's schedule, the movie will be airing at various times and on various channels (including HBO, HBO Latino, HBO2, and HBO Family) on Wednesday, Nov. 30, Friday, Dec. 16, Sunday, Dec. 25, Thursday, Jan. 5, and Wednesday, Jan. 11. It will also be available on HBO OnDemand starting on Dec. 6, according to HBO's website.
If you can't wait until one of those airings (or don't have actual cable, or simply want to watch the Muppets go Victorian on your own time), you have a few options. Since it's airing on HBO, the 1992 film is currently also available to stream anytime on both HBO Now and HBO GO.
Alternatively, you can rent (currently $2.99 SD or $3.99 HD) or buy (currently $9.99 SD or $12.99-$14.99 HD) your very own digital copy of The Muppet Christmas Carol on YouTube, iTunes, Amazon Video, Vudu, and Google Play. Or if you're old-school, like me, you can snag an actual physical copy of the DVD, available at various online outlets, including at Amazon for $9.99.
Thankfully, there are plenty of opportunities and ways to watch the Muppets do Dickens all throughout this month.