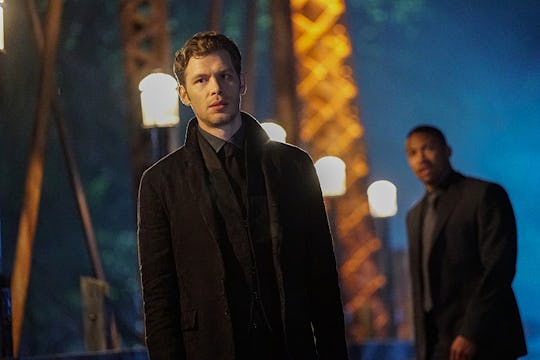 Annette Brown/The CW
When Does 'The Originals' Season 4 Premiere? The Mikaelsons Need To Return ASAP
The Mikaelsons may have been initially introduced on The Vampire Diaries, but it didn't take long for Julie Plec to realize that this formidable vampire family could stand on their own immortal feet. And so The Originals spin-off was born. Even with the Friday night schedule placement, this series has proven to be a success, which is why I'm sure fans are undoubtedly curious to know when The Originals Season 4 premiere is. After all, it feels like we haven't touched based with Klaus & Co. for so long as it is. Unfortunately, though, the wait is still far from over.
Back in November, The CW released its official midseason schedule, which helpfully rounded up all of our favorite shows and listed when we can expect for them to return. And while The Originals was included in the lineup, many of you probably found yourselves groaning when you noticed that Season 4 isn't premiering until March 17 at 8 p.m. (ET). That's right, my friends — even after all the waiting we've already done, we still have another three months to go before the Mikaelsons are back up on our television screens. Pretty crazy, right? Klaus isn't too happy about it either, honestly.
That being said, there is a positive way this could be looked at. The series is returning a week after The Vampire Diaries takes its final bow in the series finale. Fans are definitely going to want and need a pick-me-up to get over saying goodbye to such a popular show, so the return of The Originals is the perfect way to quench our vampire thirst and to help fill the void TVD will leave behind. Because, in a way, it allows viewers to feel like some part of the series is still alive and well. (Well, as alive as any vampire show can be, but you know what I mean.)
In fact, the mere existence of The Originals makes it possible for a few Mystic Falls characters to show up or even stay on permanently. Both shows have had their fair share of crossover moments and just because TVD will no longer be on the air, that doesn't mean they're going to stop. Back in November, TVLine revealed that Matt Davis (who plays Alaric on TVD) will be heading to New Orleans when The Originals returns for a special crossover. So who's to say it'll stop there? One vampire show's end is another one's beginning, which is kinda poetic in a way.
So don't worry — the wait may be extra long this time around, but we'll be thankful to have The Originals around then. If anything is going to make me feel better about saying goodbye to Mystic Falls, it's saying hello to Elijah's suits.