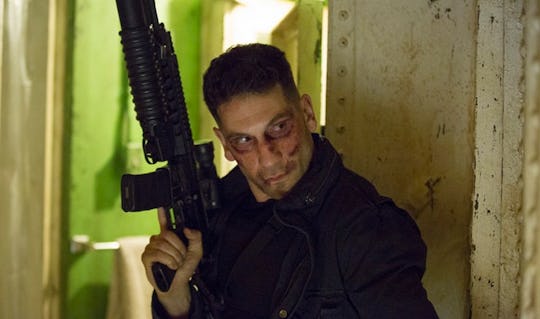 Patrick Harbron/Netflix
'The Punisher' Is Coming To Collect Justice Very Soon
Get ready comic fans, because the Marvel universe on Netflix keeps getting bigger, with yet another highly anticipated spinoff premiering soon. For those of you who have already binged your way through The Defenders, you ay have noticed a post-credits trailer for a certain vigilante who is looking to delve out some punishment. (Get it?) But when does The Punisher premiere? Frank Castle is out for vengeance and fans should have to wait much longer to watch more of his story unfold.
So far, no official release date for the series has been announced (even the trailer didn't reveal an air date anywhere in the clip), but it's expected to make its grand debut sometime in the fall of 2017, which isn't exactly that far away.
The teaser includes the gruff, rattling voice of Frank Castle narrating over images of a hammer swinging into cement interspersed with glimpses of extreme violence, terrified screams, and spooky all-American nostalgia. Frank intones over the bloody imagery, "All the things that I've done, memories, they never hurt me. But the past, it's more than memories. It's the devil you sold your soul to. He's coming. He's coming to collect."
Boy, am I ever glad I never did anything to tick this guy off. As you can see, his primary intent is to exact revenge on the people who wronged him and rid New York City of all the corruption. The clip leaves the viewer with just the right amount of intrigue, punctuated by the sound of the falling hammer for a wonderfully spooky effect. It's got an old-school noir vibe with shadowy gray tones, the ominous voice over, and various disembodied gunshots.
The Punisher is a spinoff of Netflix's Daredevil series, starring a fan-favorite character, Frank Castle. Frank isn't a superhero — he's a war veteran and a dad whose family was murdered and who now fights crime. While his character first appeared in Daredevil, his series will be quite different. In an interview with Entertainment Weekly, Jon Bernthal, who plays Frank Castle, said that the character is different in his own show. "I think that [the] Frank Castle that was in Daredevil is not in Punisher," he remarked.
The Punisher will join other Marvel shows aired on Netflix, such as Daredevil as well as favorite heroes like Luke Cage and Jessica Jones, which have been very popular on the streaming network. The trailer doesn't give much away about what's next for the Punisher, so everyone will just have to sit tight and wait until the fall to see how his character has changed, and what he's going to do next.