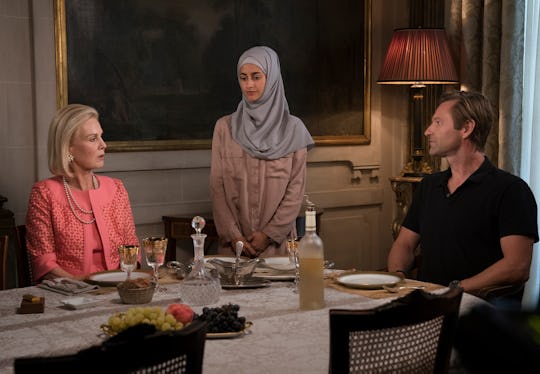 Christopher Raphael/Amazon
Amazon's 'The Romanoffs' Is One Of The Most Anticipated Series Of The Year
Mad Men creator Matthew Weiner is making a TV comeback with his new anthology series, The Romanoffs. The eight-episode season will follow the stories of different people from around the world, all claiming to be descendants of the Romanovs, the royal family that ruled Russia for nearly 300 years. It is one of the most anticipated shows of the year, so fans want to know, when does The Romanoffs premiere?
The Romanoffs premieres Friday, Oct. 12 on Amazon Prime Video with the first two episodes. Unlike a majority of Amazon series, the rest of the season will follow a weekly release schedule, with new episodes dropping every Friday through Nov. 23. Each episode will feature an independent storyline and a new cast of characters, so the experience will be like watching a 90-minute mini movie every week. In an interview with The Upcoming at The Romanoffs premiere, Weiner explained why he chose to format the series in this unconventional way. "I wanted to make a show that you didn't have to catch up," said Weiner. "A show that you can watch in any order, and that would be different every week."
While each episode will be its own self-contained story, the underlying premise of the series as a whole is the same. In his red carpet interview, Weiner revealed that he wanted to explore human nature and identity, and he used the Romanov family as a tether because of their rich history and numerous claims of false heirs. "The royal family has been the subject of over a 100 movies, books, and stories, and they have so much cache as royalty does, that it's an instant celebrity to be a part of them," he explained.
Weiner added that the modern day quest for people to learn about their heritage and genetics in hopes of finding some celebrity status, all point to the fact that people want to be seen and treated differently, and that this exploration of identity us the theme of the series. "The idea that I would tell these stories truly globally in all these different countries [about] all these different cultures and all these different kinds of people, and all of them basically telling an entertaining story, that whether Romanov related or not, is about identity."
According to The Hollywood Reporter, the $50 million series was filmed in eight different countries and eight languages, and will feature numerous notable Hollywood actors, including Diane Lane, Isabelle Huppert, Aaron Eckhart, Andrew Rannells, Paul Reiser, and John Slattery. But that's not where the A-list cast of celebrities ends. The series will also feature big names like Noah Wyle, Kathryn Hahn, Mary Kay Pace, Griffin Dunne, Ben Miles, Ron Livingston, Kerry Biché, Jon Tenney, Clea DuVall and more.
Each episode will have a different cast, and Amazon revealed that the first episode, "The Violet Hour," will kick off with Aaron Eckhart, Marthe Keller, Inès Melab and Louise Bourgoin. The second episode, "The Royal We," features Noah Wyle, Corey Stoll, Kerry Bishé, and Janet Montgomery and will revolve around a married couple who is in a rut, trying to fight off external temptations.
After creating a successful show like Mad Men, it will be interesting to see how Wiener maneuvers this anthology series, and how he tackles the identity issues he described. And with such a huge cast of favorites and sets from around the globe, the series will definitely be a dynamic watch.
As long as you have an Amazon Prime subscription, you can begin streaming the first two episodes of The Romanoffs on Amazon Prime Video on Oct. 12.