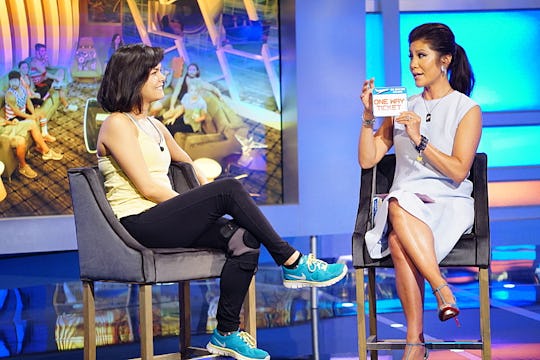 Sonja Flemming/CBS
When Does The Round Trip Expire On 'Big Brother'? There's Only One More Chance To Use It
One of the many twists of Big Brother 18 is the round trip ticket. Hidden in a secret room that Paul discovered first, there were individual envelopes for each houseguest and inside was a ticket that was either one-way or round trip, however there's only one round trip ticket. The houseguests cannot open these tickets until they're evicted and it's given to Julie. If the ticket is one-way the houseguest is officially evicted but if it's round trip, the houseguest can return immediately back into the game. So far no one has received the round trip ticket, which means it's still in play, but when does the round trip ticket expire on Big Brother?
The round trip ticket is set to expire on August 18 after the live eviction. Paulie and Corey are on the block this week and it looks like Paulie will definitely be evicted, but does he have the round trip ticket? It's possible. With so many tickets now revealed to be one-way, his chances aren't too bad — the odds are one out of eight. If Paulie does have the round trip it may only save him for one more week. The house is currently divided five to three and Paulie's in the minority right now. Unless he, Corey, or Nicole are able to win HOH on Thursday night, Paulie could find himself right back out of the house.
If Paulie doesn't have the round trip ticket, however, fans are beginning to think they'll be a jury buyback. After the Double Eviction, Julie announced there would be a special Friday episode the following week. Many fans believe that means there will be a jury buyback that will allow someone in jury to come back into the house. The potential returners include Da'Vonne, Zakiyah, Bridgette, and possibly Paulie. If that is the case, it's unclear how the buyback would work. Will it be another Battle Back type of competition or will America get to choose who comes back?
So far the producers haven't let anything slip about what the special Friday night episode will be, which has led people to believe they're not sure yet. If Paulie has the round trip ticket, there may not be a jury buyback but if he has a one-way ticket, there might be. Either way it looks like Thursday night's live eviction will be one you definitely don't want to miss.