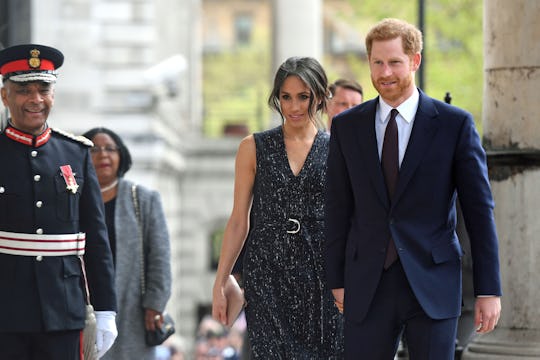 WPA Pool/Getty Images Entertainment/Getty Images
When Does The Royal Wedding Start? Here Are All The Details
Can you feel the excitement already building? With just weeks before the wedding of Prince Harry and Meghan Markle royal watchers — which is everyone right about now — are getting ready for the big day. It's like the Super Bowl for fans of love. But to plan, one hugely important question has to be answered first: When does the royal wedding start?
The bad news is that with the wedding on a Saturday, May 19, there is no reason to call in sick for work to stay home and watch. The good news is that you can enjoy the festivities along with your breakfast of tea and crumpets. As with the weddings of Prince William and Kate Middleton, and Prince Charles and Princess Diana, Prince Harry and Meghan Markle's ceremony will begin at noon sharp in the United Kingdom, according to Kensington Palace's official website. That means 7 a.m. for watchers on the east coast of the United States, and 4 a.m. for watchers on the west coast.
But breaking from the traditions of his brother and father, Prince Harry and his bride have opted to have their ceremony on the more intimate grounds of St. George's Chapel at Windsor Castle, rather than Westminster Abbey. A spokesman from the palace told People, "Windsor is a very special place for Prince Harry and he and Ms. Markle have regularly spent time there during the last year." He also added that the day will be "shaped so that members of the public feel a part of it."
There's no word yet on how much of a chance the public will have to see Markle's dress on the walk into St. George's Chapel, and since most of us have never seen a wedding there it's hard to know what to expect. With comments like this though it seems the palace is keeping the public's interest in mind and will create space for a glimpse of the soon-to-be royal bride before she disappears inside for the ceremony.
Just after the ceremony, at 1 p.m. in the United Kingdom, according to Business Insider, Prince Harry and Markle will ride in a carriage from the chapel to Windsor Castle, taking a route through the township of Windsor. The castle says this will "provide an opportunity for members of the public to see them and join in with the celebrations."
The arrival to the chapel and the carriage departure will be the time when the 2,000 members of the public invited by Prince Harry and Markle will have their view of the couple. Business Insider reported that they've invited 1,200 members of the general public, 200 people from the charities they work with, 100 students from two local schools, and 610 community members and residents of the community around Windsor Castle.
Following the carriage ride the couple will be taken to St. George's Hall for their official reception, according to the palace, which also tweeted that later that evening Prince Charles will host a private reception for the couple's close friends and family.
Whew! That's an exhausting day. So while it would be fun to imagine the royal couple dancing the night away at a Cinderella-like ball, more likely they'll fall into bed exhausted before jetting off to a gorgeous and relaxing honeymoon.
Prince William and Middleton weren't married too long ago, just in 2011, but Twitter has taken off so much since then it will be interesting to see how this wedding ends up ranking as a trending topic. For many though, there won't be any social media interrupting that day. Just a beautiful love story between a prince and the (hardly common) common girl he fell in love with. They'll ride off into the not-quite-sunset to attend their reception and millions of viewers will smile, sigh, and enjoy another crumpet.
Check out Romper's new video series, Bearing The Motherload, where disagreeing parents from different sides of an issue sit down with a mediator and talk about how to support (and not judge) each other's parenting perspectives. New episodes air Mondays on Facebook.