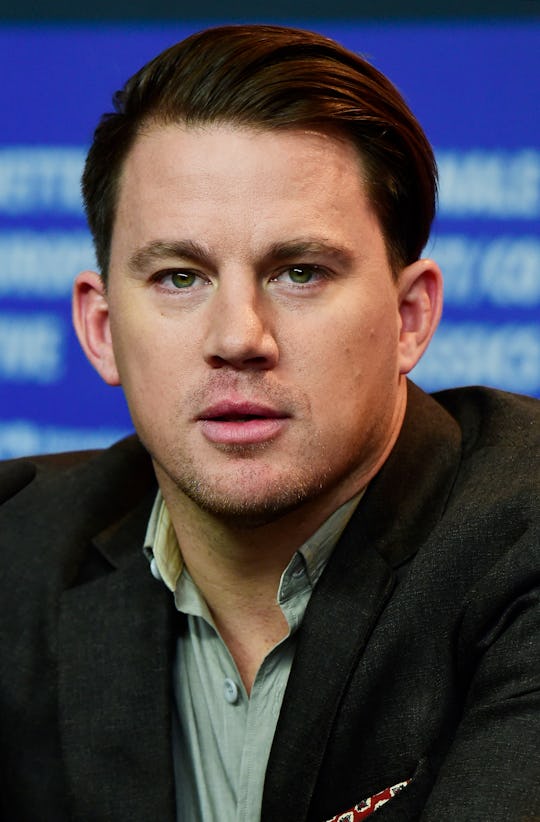 JOHN MACDOUGALL/AFP/Getty Images
When Does The 'Splash' Remake Premiere? It Could Be A While
A 1984 romantic comedy titled Splash, starring Tom Hanks, and Daryl Hannah, depicted a romance between a man and a mermaid (Hannah). Now, 32 years later, a remake of the classic '80s film is in production, but with a gender-role-swapping twist that's sure to make a "splash" (bear with me). Actors Channing Tatum and Jillian Bell will star in the remake, only, this time, Tatum will instead play the mermaid – or "merman" — and Bell will play the human love interest, previously played by Hanks. For many Tatum fans, it might be somewhat refreshing to see the former Magic Mike star depicted as a merman. Judging by reactions to the news on the Twitterverse, the excitement has already begun. So when does the Splash remake premiere?
Apparently the movie is still in early production. According to Deadline, the film by Imagine Entertainment's Ron Howard and Brian Grazer (who directed and wrote the original film respectively), revealed that Bell, who also worked with Tatum in 22 Jump Street, came up with the idea to switch the gender roles in the film. The film will be executive produced by Imagine's Anna Culp, and released by Disney, Deadline reported.
Already, social media has a lot of opinions (not that that's unusual); One Twitter user suggested that buzz-worthy news of the Splash remake should trump the energy spent arguing with Donald Trump's most dedicated supporters on Twitter. Not a bad thought.
Other Twitter users celebrated the film's inherent feminism for casting a male in a role that's typically used to hyper-sexualize women, and casting Bell as a love interest notably played a younger Hanks – a role not typically offered to women.
In the original Splash, Hanks who played Allen Bauer, reunited with a mermaid named Madison (Hannah), who saved him from drowning years prior when he was a young boy.
In a CNBC interview back in June, Grazer, who also produced such films as A Beautiful Mind and Apollo 13, revealed that he was just casting Hanks' role for the remake of Splash and that a "movie star" would be involved. But he was very tight-lipped about the films "twist."
"I'm actually going to do it from the point of view of a – I can't say anything about it," Grazer said in the CNBC interview. He added that the film would be "a version" of his original take on Splash which was called "Wet" and from the point of view of the mermaid. "We're going to do a version of that, but I can't tell you the twist."
It will certainly be interesting to see how the film plays out, which character's point of view it's from, and the film's audience reception once it releases. Clearly, the backlash towards the woman-led remake of Ghostbusters proves society as a whole needs more diverse gender roles (not to mention, the relentless outcry when people of color play roles from characters in books... cue Hunger Games whistles...).
Until Splash premieres, I'm sure Tatum fans will continue to express their excitement with endless memes, and virtual cheers on Twitter. As they should.