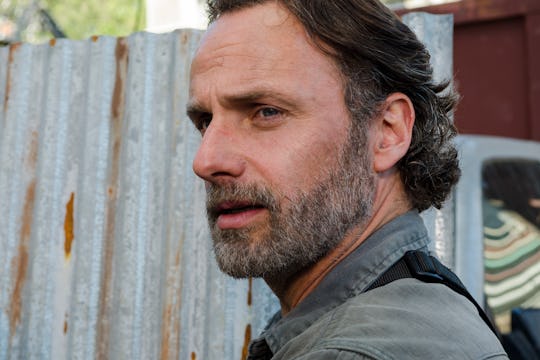 Gene Page/AMC
'The Walking Dead' Is Taking A Break, Because Even Zombies Celebrate The Holidays
The Walking Dead Season 8 will say goodbye for the holidays with a midseason finale that lasts an hour and a half, giving them enough time to set up everything that will follow in the second half of the season. Fans are sure to be impatient for the continuance of the story, especially as the ongoing war with the Saviors has made things particularly fraught for the last few years. But when does The Walking Dead return from its winter hiatus? It may be a longer wait than you'd like, but the show will be back before you know it.
An official return date for The Walking Dead Season 8 has yet to be announced, but it isn't too difficult to guess. The show's premieres and finales follow a fairly regular schedule and it doesn't change much from year to year. A new season will almost always debut in mid to late October, then finish up in late March or early April. In between, it takes a break in early to mid December that lasts until February. When Season 7 took its mid-year break, it returned on Feb. 12 and it seems likely that Season 8 will be back around the same time.
That would mean it should only be a couple of months until fans get to see how everything turns out for Rick and his people as they set their plans in motion to oust Negan from the surrounding communities. Season 8 has been continuously building toward the "All Out War" from The Walking Dead comics, but one can't expect everything to be resolved in "How It's Gotta Be." The midseason finale will definitely deliver on the action, but some things will have to be saved for later.
All the pieces were put in place before "How It's Gotta Be." Rick made a tentative deal with Jadis and the Scavengers for their numbers and support, despite the fact that his last tentative deal with them blew up in his face. Maggie is in control of Hilltop and ready to fight. Ezekiel is currently mourning his lost tiger Shiva, but there's no doubt he'll rally when the moment comes. The Saviors have also been dealt numerous blows that have weakened them enough that victory seems possible.
But fans shouldn't get too secure. Many of the characters are finally feeling strong again after a seventh season spent doubting and suffering, but that can't last forever on a show like The Walking Dead. The midseason finale will undoubtedly feature its share of tragic losses, and fans have been guessing for months who might be gone by the time Season 8 takes its winter break.
When it comes to figuring out which character could bite the dust this year, Carl has been a popular guess. Young star Chandler Riggs could be ready to move on for college or simply the next phase of his life, bringing an end to Carl's journey on the show. It would also tie in with the flash forwards in the Season 8 premiere that showed a crushed Rick crying over two fresh graves. Carl's death would destroy him.
Another popular theory is that Morgan will die, especially because actor Lennie James will soon be departing for Fear the Walking Dead. Morgan has been deeply conflicted for the last few years and it wouldn't be very surprising if he ended up losing his life in the battle. Either character could die, or neither, or both. The only thing that isn't uncertain is that there is some heartbreak ahead — but good things await fans in the midseason finale as well.
Katelyn Nacon, who plays Enid, told the Independent, "There is going to be some tough stuff to come, but I feel like it will come with a silver lining because there are a lot of horrifying things to come, but also a lot of beautiful things that comes with it, comes because of it. It's a big win-lose situation..."
Whatever happens in the midseason finale of The Walking Dead Season 8, it'll determine the course of the rest of the season and beyond.
Check out Romper's new video series, Romper's Doula Diaries:
Watch full episodes of Romper's Doula Diaries on Facebook Watch.