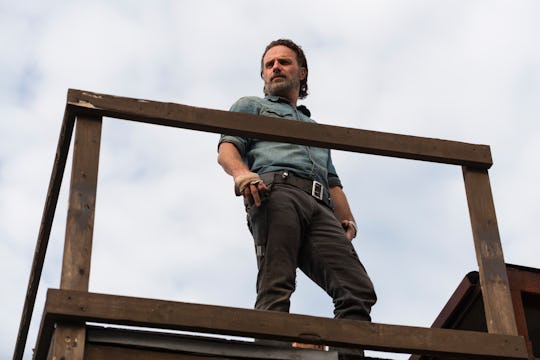 Gene Page/AMC
Here's When You Can Expect 'The Walking Dead' To Return For Season 9
On April 15, the eighth season of The Walking Dead came to a close with "Wrath," an episode that promised to deliver an end not only to the season, but to the war that had consumed it. Season 8 delivered its share of shocks, including the slow demise of Carl Grimes, but Rick still hoped to build a better world in the ashes of the old one. Some viewers are eager to see if that's really possible, leaving them wondering: when does The Walking Dead Season 9 premiere?
The conclusion of Season 8 is still very fresh and it doesn't seem as though Season 9 has even begun production, so it's impossible to say when exactly it will be ready for the viewing public. Still, this show has been on a steady schedule for years now, so one can make an educated guess about the premiere date of Season 9 even if it's unconfirmed. Every single season of The Walking Dead has debuted in October and, though the exact date changes, it's almost always in the later part of the month. The first episode of Season 7 aired on October 23, and the first episode of Season 8 on October 22; if the pattern continues, then Season 9 should return in the last two weeks of October 2018.
While AMC didn't specify the month, they did announce that the show had been renewed for Season 9, "to premiere in late 2018," so October is very plausible. It's basically tradition at this point.
There will be some shake-ups behind the scenes before the show is back. Many fans are concerned with cast negotiations, specifically involving actress Lauren Cohan, who has a new pilot called Whiskey Cavalier with ABC that might end up impacting Maggie's presence on the show. Though showrunner Scott M. Gimple is hopeful about her continuing with the show when talking to TVLine, it's unclear if she will be able to.
Gimple himself will also be serving a different position come Season 9. He was promoted to chief content officer, which means the entire television franchise will be his responsibility; executive producer Angela Kang was made showrunner of The Walking Dead. According to AMC, she has been a writer and producer on the series since 2011, so she's more than familiar with how it all works. In an statement on AMC's website, Gimple said:
As the show closes in on its tenth year, I can't wait to keep working with the talented, dedicated people behind and in front of the camera to make it all it can be, while expanding the world of The Walking Dead with new narratives like Fear the Walking Dead and a whole host of truly cool stories ahead. Angela is a big part of the heart and soul of The Walking Dead, and I'm thrilled to help facilitate her vision of the show's next era.
Gimple also had a conversation with Entertainment Weekly about what to expect from Season 9, explaining that viewers should prepare themselves for a very different Walking Dead after "Wrath" was done.
Also, this episode isn't just like these 15 episodes coming to a conclusion, but Angela and myself and the writers had always talked about this in many ways being sort of the conclusion of the first eight seasons. This show will be very much a new show next year and with a bigger, new narrative. It was something I was really excited about getting into even before Season 8. And so there was just a certain weight in the air of the kind of conclusion that we were getting closer to. It was a weird graduation for everybody.
Fans have around six months to get ready for all the changes Season 9 will bring, but hopefully the wait will go by more quickly than Maggie's pregnancy did.
Check out Romper's new video series, Romper's Doula Diaries:
Watch full episodes of Romper's Doula Diaries on Facebook Watch.