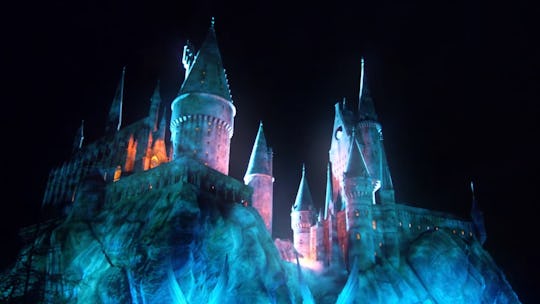 When Does The Wizarding World Of Harry Potter Open At Universal Studios Hollywood? Get Ready Because Now We Know
You know that annoying feeling when someone says they have a really juicy secret but won't tell you what the really juicy secret is? That's kinda how it felt when we didn't know when the Wizarding World of Harry Potter at Universal Studios Hollywood opens, even though we knew it was coming eventually. Well, now we know: the "Wizarding World of Harry Potter" at Universal Studios Hollywood is finally opening on April 7, 2016. Get your credit card ready, left-coasters! Potterphiles who can't wait a few months can check out the attraction in advance via an absolutely enchanting virtual tour. Warning: Don't play with this while your kids are around, unless you're prepared book your trip today. It looks absolutely amazing.
First, you enter the village of Hogsmeade, where you'll see the Hogwarts Express train, Zonko's Joke Shop, Ollivander's wand shop, and other familiar stores, as well as Flight of the Hippogriff, a family-friendly roller coaster that sails past Hagrid's hut. Visitors can dine at the Three Broomsticks and the Hog's Head Pub, where you'll finally get to find out what butterbeer tastes like. If you have a boring friend who doesn't get your Harry Potter obsession, don't worry — they also serve Muggle beer and wine. After you eat, you can head to Honeyduke's for some wizarding treats such as Fizzing Whizzbees, Chocolate Frogs, and of course, Bertie Bott's Every-Flavour Beans. Then, stop by the Owl Post, where you can send a letter that will arrive with a real Hogsmeade postmark. How cool is that?
Of course, there's also a replica of Hogwarts School of Witchcraft and Wizardry, where you can check out the Defence Against the Dark Arts classroom, the Gryffindor common room, the Room of Requirement, the Great Hall, and Dumbledore's office. The visit caps off with a 3-D ride called "Harry Potter and the Forbidden Journey," which promises to immerse visitors in Harry's world. The stars even filmed special scenes for the ride.
Check out this adorable video of Luna Lovegood making the official announcement of the park's opening:
If you need me, I'll be quietly freaking out until next year.
Images: Universal Studios Hollywood/YouTube; Giphy