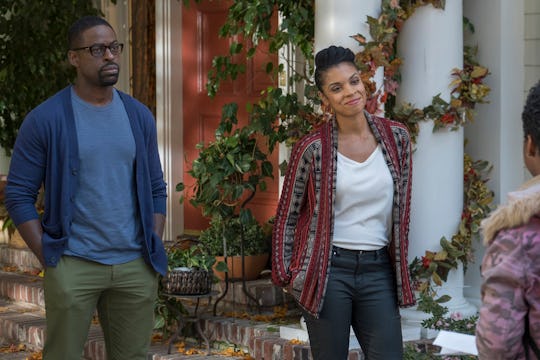 Ron Batzdorff/NBC
'This Is Us' Will Be Back Before You Can Say "Manny Out"
Like any other primetime network TV show, This Is Us is going to be taking the typical midseason break after its fall finale. But when does This Is Us return from its winter hiatus? Season 2 has a pretty solid schedule compared to some other network TV shows, and according to TVGuide, This Is Us is set to return on Jan. 2. That means it will be out for about a month, so in the grand scheme of things, it could be a lot worse.
Because of the Thursday night football schedule that some networks have, other primetime series are forced to have much longer breaks between the fall finale and the return of each particular show, so keeping This Is Us on Tuesday nights on NBC has ensured that the winter break won't be any longer than necessary to allow viewers to enjoy the holidays without the worry of missing any new episodes of their favorite tear-jerking family drama. That was actually part of the reason why both the network and This Is Us creator Dan Fogelman decided to keep the show in the same Tuesday night time slot.
Had NBC moved This Is Us to Thursday nights, it would have meant a technically longer season in terms of when the This Is Us Season 2 finale airs, but also more breaks and for longer periods of time. This way, the Season 2 finale will air on March 13, but the winter hiatus will only last until Jan. 2, giving This Is Us a pretty consistent schedule for the rest of the season.
In the promo for Randall's episode "Number Three," Deja's storyline comes to a head when her mother is released from jail and shows up at Randall and Beth's house to take her daughter home. But Randall insists on fighting for custody of his foster child, so if the first two installments of the Big Three arc emotionally wrecked you, I have a sneaking suspicion that the third one (also serving as the fall finale) will be no different. I'd have tissues at the ready, if I were you.
Randall's desire to keep Deja is basically your classic Jack Pearson move, trying to do the right thing even if it involves a long struggle. But in this case, it's also going to depend on what Deja thinks and what she wants if her mom is initially granted custody again. After the way Kevin's and Kate's respective episodes ended, I don't know if This Is Us fans can take another sad ending to an episode without many hints of optimism, so hopefully in the end, viewers are left with more to go on than just a broken Randall having lost the foster child he's grown so attached to.
With the flow of the recent episodes, though, what some of us may have forgotten or not realized is that we're still waiting for more concrete clues or answers about Jack's death. We know that the house fire happened during a time when Kevin's leg was in a cast and Kate had a dog and those are two things we've seen so far in these special episodes. I wouldn't be surprised if Randall's installment culminates with the house fire on This Is Us, finally, and leaves off with fans wondering about Jack's fate and if he actually dies in the fire or not. There's still so much for fans to find out and luckily, the winter hiatus will be over before you can say "Manny out."
Check out Romper's new video series, Romper's Doula Diaries:
Watch full episodes of Romper's Doula Diaries on Facebook Watch.