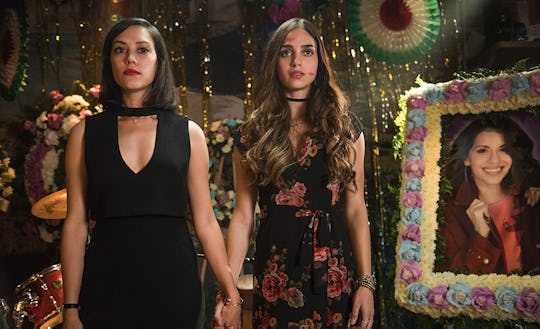 Courtesy of Starz
Yes, 'Vida' Will Be Back For Season 2 & We Could Not Be More Excited
Sunday night television is about to get much more dull after Vida's first season comes to an end on June 10. Since the series only had six 30-minute episodes, there seems to be a lot of story left to tell for it's main characters, sisters Lyn and Emma. So, when does Vida season two premiere? Well, the good news is that Vida will, in fact, be back for a second season, as confirmed by The Hollywood Reporter. The "bad" news is that a premiere date has yet to be announced.
While the series has created a bunch of buzz, it's also making television history. How so? Because it has the first-ever all Latinx writers room, as reported by Vulture. There are seven writers behind the series in told, including Tanya Saracho who penned the pilot before Starz decided to greenlight the first season. The network allowed her to staff the writers room, and Saracho did not once hesitate to hire solely Latinx scribes for the job. Since the series tells the story of two Mexican-American women living in Los Angeles, California, it was the perfect opportunity to not only make history, but also make sure the characters were portrayed in the most genuine way possible.
In Vida, Lyn and Emma, portrayed by Melissa Barrera and Mishel Prada, respectively, are forced to return home after their mother dies suddenly. It's quickly revealed that not only were Lyn and Emma estranged from one another, but they were also estranged from the mother, Vidalia. Not only are Lyn and Emma forced to face their own broken relationship, but they are forced to mourn the loss of their mother and, somehow, find closure in what she left behind.
Now, that's where things get interesting. After their mother's passing, Lyn and Emma are surprised to find out that Vida had a roommate -- who they later learn was actually her wife of two years. Eddy (Ser Anzoategui) was also helping Vida take care of the bar she owned, which Emma is desperate to sell so she can return back to her big city life elsewhere. Unfortunately for both Emma and Lyn, it's discovered that Vida added Eddy into her will so that the three of them would own equal shares of the bar and the it's building.
But Vida isn't just a story about two sisters coping with their mother's death. It's a story about acceptance, equality, sexuality, and social classism. Amidst Em and Lyn's story is their neighborhood's ongoing gentrification, in which some locals (especially Mari, played by the vibrant Chelsea Rendon) feel their home is being white-washed by hipster culture. To add to that, we find out that Emma's estrangement from her mother is based hugely on her sexuality: queer. Once Emma learns that her mother was, too, it's a hard pill to swallow.
Despite Vida's intriguing story and ever present exploration of social issues, the ratings have not exactly been blockbuster for Starz. According to TVSeriesFinale.com, the show has yet to break one million viewers per episode, though it's unclear exactly how accurate those numbers are.
Fans of the show will just have to be patient as they await season two of Vida. They should also definitely continue spreading the word about Vida by mouth and on social media, because the more buzz there is and the more views it's getting will likely encourage Starz to keep the story going for as long as possible.
Until then, don't miss the Vida season one finale on Sunday, June 10, immediately following the Sweetbitter season one finale. You can also rewatch the entire first season of Vida on Starz OnDemand, if you need the Latinx void in your life filled!