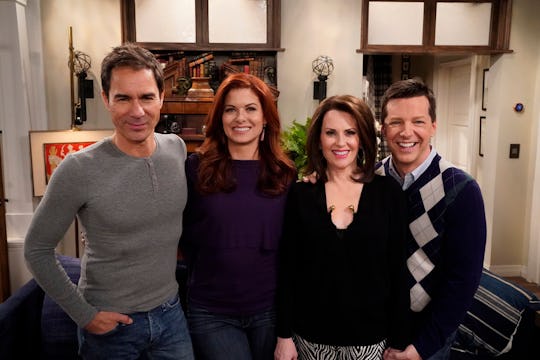 Chris Haston/NBC
The 'Will & Grace' Season 10 Premiere Will Be Here Before You Know It
I'll be honest, when I first heard about the Will & Grace reboot, I was pretty sure it was going to utterly flop. But I was completely wrong and the show has become a hit, earning a gleeful reaction from fans and critics alike. So now that the Season 9 finale is upon us, it only makes sense to wonder: when does Will & Grace Season 10 premiere? The rebooted Season 9 was so popular that it immediately got an additional four episodes added to the season's original 12 as well as a renewal for Season 10.
Because Season 9 is just ending now, there is no official announcement for when the popular sitcom will be back. I can guess, however, that if the show follows the normal schedule for network programming, as well as the schedule from Season 9, then we can expect Season 10 to arrive at some point in the fall of 2018. I don't have the exact details so I can't tell you for sure, but I do feel pretty confident about this assessment. With big-budget prestige shows like Game of Thrones or Outlander, it can be harder to predict when they're going to return, if only because there are a lot more moving parts associated with their production. But for less costly productions like Will & Grace, well they're pretty reliable.
As of this moment there's not a lot of information available regarding what the next season will bring or where the storylines will go. But it is clear that the show is not exactly the temporary reboot that I was expecting in the beginning. When it was renewed for Season 10, it was expected that the season would last for at least 13 episodes, and now it looks like that number has increased to 18 — which is about the number of episodes in a normal season of a network show.
And if that is not exciting enough for fans of Will & Grace, the show has also already been renewed for a Season 11 as well, which will also last for 18 episodes, and is expected to premiere in the fall of 2019. So if I'm not very much mistaken, at this point it simply looks like Will & Grace is back to stay on a permanent basis, and I really don't see anyone complaining. Sitcoms may not be quite as popular as they once were, but the Will & Grace reboot's success proves that this show's popularity is about more than just nostalgia, and the network believes that it can work.
When Will & Grace premiered in 1998, an openly gay man had never been the lead on a major network show. In fact Ellen was canceled after Ellen Degeneres came out because executives worried the show was "too gay" for mainstream audiences. So Will & Grace was a trailblazing comedy as far as major network success goes, and if anyone was worried that the original show would not be able to hold its own in a modern world, they needn't have.
The show bridged the eleven-year gap between its final season and the reboot elegantly, transforming the show into something that belongs in this era, while maintaining the main characters' lovable antagonism. So personally, I'm excited to spend at least two more seasons with these beloved characters. I can admit when I'm wrong, and I'm admitting now that Will & Grace managed to update its show in a way that makes sense, and makes people want to see more.
Check out Romper's new video series, Romper's Doula Diaries:
Watch full episodes of Romper's Doula Diaries on Facebook Watch.