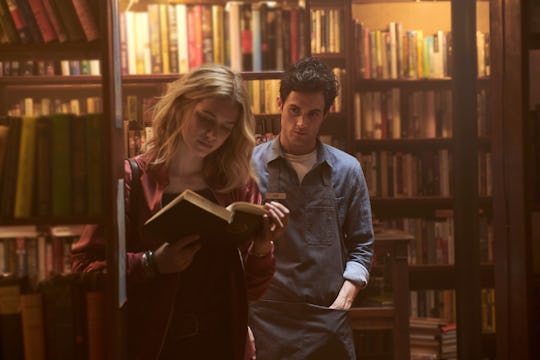 Photo by Courtesy of Lifetime
"You" Will Premiere On Lifetime *Very* Soon
There's a reason why Lifetime original movies are so popular among viewers — they're thrilling, engaging, and tell tales of women falling in love. And Lifetime's newest series, You, will become a serious obsession among viewers for this reason. So of course, people are wondering — when does You premiere on Lifetime? Because TV lovers are not going to want to miss the premiere of their new favorite fall series.
This fall, people will be looking forward to drinking pumpkin spice lattes again, wearing long sleeves, and seeing their favorite TV shows return for new seasons. But this season also marks the start of some new TV shows that people won't want to miss, like Lifetime's newest series, You. And luckily, people don't have to wait too long to finally tune in to You (or have to wait for the weather to get any colder to see it).
You premieres on Lifetime on Sunday, Sept. 9 at 10 p.m., which gives people about two weeks (and a few days) to familiarize themselves with the show, which is a bit of a thriller. The show, according to Lifetime, is about a bookstore manager named Joe (played by Gossip Girl actor, Penn Badgley) who meets an aspiring writer, Guinevere Beck, who he develops a major crush on. And, using social media to his advantage, he gets very close to her — but his major crush quickly turns into a major (and dangerously scary) obsession.
If words aren't convincing enough, then the series' trailer might force people to tune in — because the show looks that good.
Fans of Gossip Girl, and anyone who is addicted to thrilling shows like HBO's Sharp Objects — along with those who love social media — will definitely be interested in You. And not because it stars Badgley and Shay Mitchell, who also starred in beloved teen dramas Gossip Girl and Pretty Little Liars, respectively.
Network executives already seem to think that people are going to love this show. This is because, in late July, Lifetime execs picked up the show for a second season before it had a chance to premiere, according to Variety. This is a show they're willing to gamble on.
In case people wanted to get very familiar with the show before it premieres, it's easy to do so. You, the show, is actually based on the best selling novel from 2014, You by Caroline Kepnes, according to the Hollywood Reporter. So, all of those "the book is better than the movie" die hards, might want to get their hands on a copy before the show premieres (which is exactly what I did a few weeks ago).
When Kepnes' book debuted in 2014, people quickly became obsessed with it, according to PopSugar, for a good reason. With its references to pop culture and social media, You is the kind of book with a plot that feels like it could happen to anyone. Kepnes told blog, The Bookworm's Fantasy, this year that she is super excited to see her debut novel in motion (and not because she wrote an episode). Kepnes said:
The show is unique to me in the way that it hones in on the eternal struggle to find someone at this particular moment in time. I hope the audience will be sucked in right away, when Beck walks into the bookstore, into Joe's life. And as the author, I knew what was coming, but countless times I was on the edge of my seat, shrieking.
With that in mind, the show sounds so thrilling — and the good news is, people won't have to wait too much longer to watch You on their TV screens (or computers).