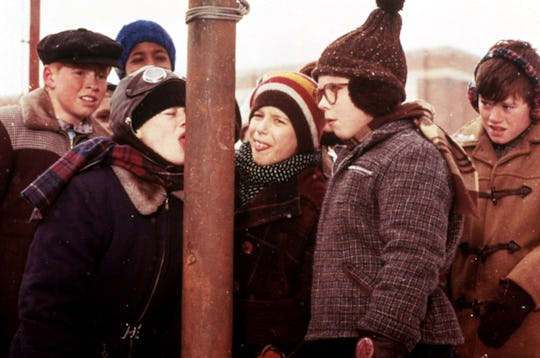 MGM
Don't Worry, You Can Definitely Still Watch 'A Christmas Story' On TV
Don't shoot your eye out just yet — the holiday classic A Christmas Story has almost arrived. As soon as Thanksgiving passes (or, let's be honest, Halloween for some of us), everyone starts getting in the Christmas spirit. While you're getting your decorations out and buying presents for loved ones, there's another way to get ready: Watching holiday flicks. And there's at least one favorite the entire family can enjoy. So when is A Christmas Story on TV?
There are quite a few options for watching young Ralphie pine for his beloved Red Ryder BB Gun. And one is more popular that the others. TBS isn't exactly known for much these days, but if there's one thing you can count on, it's the network's annual 24-hour Christmas Day marathon of A Christmas Story. But apparently, there were rumors that the yearly event wasn't going to occur in 2018, after a fake news article circulated declaring "TBS cancels A Christmas Story marathon due to a portrayal of bullying."
The scene in question is likely the one in which Ralphie finally fights back against bullies Scut Farkus and Grover Dill. In a moment of anger, Ralphie snaps and beats up Scut, giving him a bloody nose. It's not exactly a shining moment in how to deal with a bully, but then again, that's not uncommon for films from the time. So despite what you may have heard, the marathon is very much a go.
With the movie airing in a constant loop on Dec. 25, chances are you'll find the time to catch it at least once. But if you plan to spend the holiday away from the distractions of media (hey, good for you!) or you plan on being somewhere without cable, fear not: You can watch A Christmas Story on TBS and TNT via their digital sites or apps at anytime. Or, if you can't wait any longer to watch but you just don't have the time to take in a whole movie right now, here's a breakdown that will at least give you a taste of your favorite moments:
Speaking of a more modern take on a Christmas classic, here's a mind-blowing fact that's been circulating. Good old Ralphie, the bright-eyed star of A Christmas Story, makes a cameo appearance in a much newer holiday favorite: Elf. Peter Billingsley plays Ming Ming, a bespectacled managerial elf who accidentally reveals to Will Ferrell's Buddy that he's not one of them. Don't worry, the uncredited cameo came as a shock to the rest of the internet as well:
These days, grown-up Ralphie primarily works behind the camera, as a producer for films such as Iron Man and Four Christmases. Most recently, he's acted as an executive producer for the adult animated comedy F Is For Family on Netflix. Looking at him, it's easy to see that a lot of time has passed, but can you believe how long it's been since A Christmas Story was first released 35 years ago? Thankfully, you can still re-watch this childhood favorite over and over 'til your heart's content.
This first-time mom wants to have a home birth, but is she ready? Watch how a doula supports a military mom who's determined to have a home birth in Episode One of Romper's Doula Diaries, Season Two, below. Visit Bustle Digital Group's YouTube page for the next three episodes, launching Mondays in December.