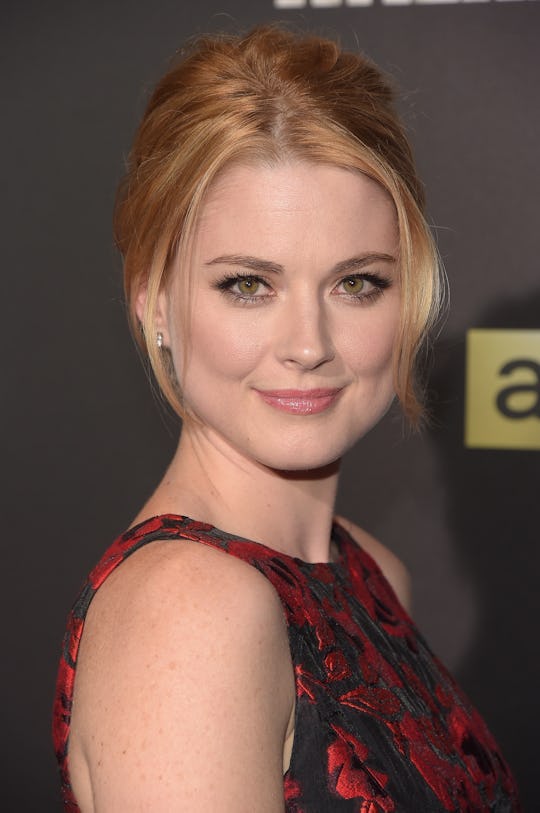 Theo Wargo/Getty Images Entertainment/Getty Images
When Is Alexandra Breckenridge Due? Her Pregnancy Announcement Reveals A Hint
Oh, hello, Alexandra Breckenridge's pregnancy bump. On Tuesday, the Walking Dead actress posted a picture to Instagram, where she wore a pretty awesome little dress and showed off her new bump — which, by the way, doubled as her pregnancy announcement. She captioned the shot, "Someone doesn't want to hide in his moms tummy anymore..." which is a pretty low-key way to share the news. Needles to say, fans are excited, and, after the surprise bump picture, the world wants to know: when is Alexandra Breckenridge due?
Since the news is still so fresh, it's hard to know. However, let's do a little sleuthing. Breckenridge's announcement had a subtle hint to it — by saying "his mom's tummy," we know that Breckenridge and her husband, guitarist Casey Hooper, know they're expecting a baby boy. The earliest a baby's gender can be revealed — through amniocentesis — is at 16 weeks, which means Breckenridge is at least four months along in her pregnancy. (Most of the time, gender is revealed through an ultrasound at 18 to 20 weeks, but let's play on the safe side.)
Of course, Breckenridge could be farther along, but if we stuck to a very conservative estimate of 16 weeks, that means baby Breckenridge could be part of this world by late September.
Breckenridge and Hooper (who, by the way, is Katy Perry's lead guitarist) were married in 2015, in a small ceremony. It looks like it won't be long before baby will make three in their little family. (Or five, if you count the couple's two adorable dogs.
Breckenridge recently finished up her time on The Walking Dead after her character, Jessie Anderson, got finished off by zombies in February, which followed the comic book's arc. After her character was killed off, Breckenridge told The Hollywood Reporter, "It's sad, you're saying goodbye to friends. I didn't want to leave the show." She said she would try to keep watching The Walking Dead to see what direction the show headed in, but that she was focusing her attention on new opportunities. As she told The Hollywood Reporter:
It's pilot season, so people know I'm available. All the casting directors are big fans of The Walking Dead and I come in and they say, 'You die, don't you!' But I can't say anything! So now they know. But I'm still looking for something that moves me.
In the meantime, it seems that pregnancy and a new baby will keep Breckenridge's hands pretty full. Hopefully we'll have a few more updates before that possibly-not-in-September due date — as well as many more snapshots!