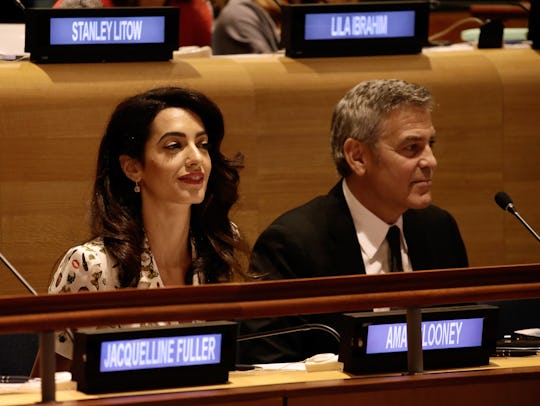 Pool/Getty Images News/Getty Images
Amal Clooney's Due Date Is A Mystery (For Now)
Break out the confetti and glitter again because George and Amal Clooney are expecting twins. The exciting news, which comes just days after Beyoncé glamorously announced that she too was expecting twins, was confirmed on Thursday's episode of CBS' The Talk. So, when is Amal Clooney due? Romper has reached out to the couple's reps for comment on the pregnancy news and is awaiting a response.
No one's exactly sure of any due date just yet, but everyone, it seems, it ecstatic. "Beyoncé is not the only superstar expecting twins. Congratulations are in order for George and Amal Clooney," The Talk's Julie Chen announced on the daytime program she co-hosts, saying that she confirmed the news with the actor in late January. "The Talk has confirmed that the 55-year-old superstar and his highly accomplished 39-year-old attorney wife are expecting twins. Give her the armrest, by the way, she's pregnant!"
While the couple has yet to confirm when their bundles of joy are expected to arrive, Chen claimed on the show that the Clooney twins are due sometime this June. An insider also reportedly confirmed the summer due date to Us Weekly. If this due date is accurate, then it would mean that mother-to-be is about five months pregnant and is nearly at the tail end of her second trimester.
The exciting announcement has settled a lot of speculation that has been circulating over the past month that the civil rights lawyer, who tied the knot with husband George in September 2014, might have been concealing a new baby bump as she was recently spotted wearing some loose-fitting clothing, according to Entertainment Tonight.
This exciting news has certainly delighted many, but it may have caught some fans by surprise, considering that the soon-to-be dad said back in 2015 that he hadn't really given fatherhood much thought.
"I mean, I've thought about it, I suppose, but it hasn't been high on my list," the actor said in May 2015 after he was asked by CBS This Morning's Charlie Rose if he had ever thought about having children.
He continued, "I've been asked it a lot lately, because I've gotten married and I am doing a movie with kids in it. You should see how different, how creative the way they ask me!"
This year may have gotten off to a rocky start, but there's already so much to look forward to now that we know another set of power twins is on the way. And with an incredibly intelligent and passionate mother and a talented and dedicated father as their role models, the future looks alright.