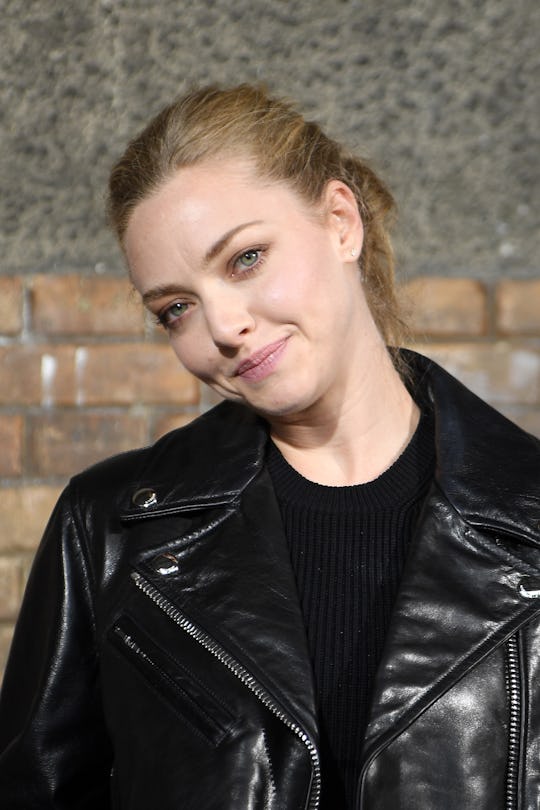 Pascal Le Segretain/Getty Images Entertainment/Getty Images
Amanda Seyfried Is Keeping Her Due Date Secret
Although she just announced her pregnancy at a Givenchy event in November, Amanda Seyfried's due date is already the rampant speculation of just about everyone. And can you blame them? Seyfried recently made the rounds in her neighborhood, walking her dog Finn with her fiancé Thomas Sadoski in Los Angeles while killing the adorable baby bump look and looking super relaxed. (Finn doesn't seem too nervous about a new addition to the family just yet, either, thank goodness). Unfortunately for fans, Seyfried and Sadoski are keeping mum on her expected due date, so it's anyone's guess at this point.
Perhaps just as amazing as the mom-to-be's documented excitement about her impending bundle of joy is Seyfried's recent — not to mention gorgeous — Vogue Australia cover shoot, where she was snapped rocking a crop top and flowy skirt. Seyfriend said that the photos were taken right after she first found out that she was pregnant. The 31-year-old told the fashion magazine that she's "never been excited by anything more" in her life when it comes to motherhood, and that she was totally "ready" for whatever came her way.
Seyfried is very low key when it comes to the big stuff, which is an admirable trait. She and Sadoski, 40, don't have a wedding date (that we know about) yet, but she plans to keep the festivities low key.
Seyfried told Vogue Australia, "'I don't want to be the centre of attention. I get to go to premieres and get dressed up all the time." She added, "I went to the Met Gala last year in a wedding gown designed by Riccardo Tisci; I've played a bride a billion times." Right on. And who knows — maybe a new baby will be the center of attention whenever she and Sadoski walk down the aisle.
Seyfried splits her time between Los Angeles and a home she bought in the Catskills in 2013, where she takes in nature. She told Allure in October that she loves the small town life and her garden. It's probably also soothing, since Seyfried has been open about the fact that she lives with with OCD. Along with being a talented actress and a wife and mom-to-be, Seyfried is also a mental health advocate on a quest to eradicate the stigma surrounding mental health.
Seyfried told the magazine about taking Lexipro for her anxiety,
A mental illness is a thing that people cast in a different category [from other illnesses], but I don't think it is. It should be taken as seriously as anything else. You don't see the mental illness: It's not a mass, it's not a cyst. But it's there. Why do you need to prove it? If you can treat it, you treat it.
With that kind of laid back attitude and open mind, Seyfried's going to be a great mom. Whenever the baby gets here, of course.