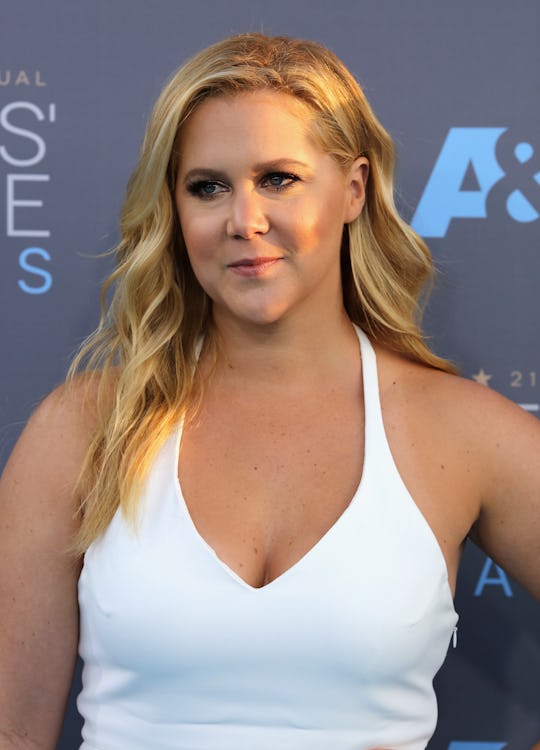 Mark Davis/Getty Images Entertainment/Getty Images
When Is Amy Schumer Due? The Actress Is Expecting Her First Child
After periodically shutting down pregnancy rumors for years, the state of one actress' uterus is no longer a mystery. That's because on Monday, October 22, some big news was dropped in the celebrity-sphere. Now, fans are probably dying to know: When is Amy Schumer due? Because the actress is expecting her first child with husband Chris Fischer.
As People reported, Schumer actually opted for someone else to spill her baby news. On Monday, her friend Jessica Yellin of News Not Noise made the big reveal via Instagram Stories.
"I wanted to share some news from our community, maybe it's noise but it's happy noise," Yellin said in a video clip. "So I'm not in the business of making voting recommendations, but these are the recommendations of Amy Schumer, one of the most consistent and earliest supporters of News Not Noise. Now read all the way to the bottom, you'll see there's some news down there. Congratulations, Amy." If you direct your eyes to the very bottom of her list of political recommendations, you'll see it plain as day: "I'm pregnant — Amy Schumer." LOL! Leave it to Amy Schumer to find the most low-key, yet hilarious, way of announcing she's having a baby.
For the record, the comedian also teased the news on her own Instagram on Monday — by photoshopping her head and Fischer's head on the bodies of a photo of Prince Harry and Meghan Markle. "About to announce some exciting news on @jessicayellin insta page," Schumer captioned the quirky photo. "Please follow her for up to the minute #newsnotnoise she breaks down what's really going on. She agreed to post a lil noise today for me! Follow her and VOTE!!"
Although there aren't any details surrounding Schumer's confirmed pregnancy — other than there is, in fact, a developing fetus in her womb — let's take a look back to see when she was decidedly not pregnant. Back in July, Schumer cleared up pregnancy rumors stemming from a combination of the unfortunate placement of her hands in an Instagram photo and a cryptic caption, according to the Daily Mail. Alongside a shot of herself wearing a red dress, Schumer wrote, "@leesaevansstyle and I are cookin somethin Up."
When the comments starting flooding in congratulating the star on her pregnancy, Schumer followed up this post with a clarifying video, according to E! Online. "I am not pregnant, I am not pregnant. I'm sorry, my hands, my friends said my hands were near, it looked like I was pointing to a bump or something, but I am not," she said in the Instagram video. "Leesa Evans and I have created a clothing line and for all sizes and shapes and, um, at a chill price point. Um, that's what I was trying to allude to but thank you for thinking of my womb."
So Schumer was clearly not pregnant on July 12. (At least as far as she knew... unless she was keeping the news to herself.) A good portion of women or couples wait until about three months into a pregnancy — or around 12 weeks or so — to announce their big news, according to BabyCenter. This is because the risk for miscarriage significantly decreases around this time. If Schumer and Fischer decided to go this route, then they would have conceived sometime around the beginning of August, which means she could possibly have a May due date. Of course, you can give or take a week or two — so it's probably safer to say that Schumer is due sometime in spring 2019.
Hopefully, this funny mom-to-be will keep her Instagram followers updated as her pregnancy progresses. I know I'm looking forward to hearing her take on pregnancy and motherhood. Regardless of her exact due date, I wish Amy Schumer and Chris Fischer the best as they embark on this journey together. It's going to be a wild ride!