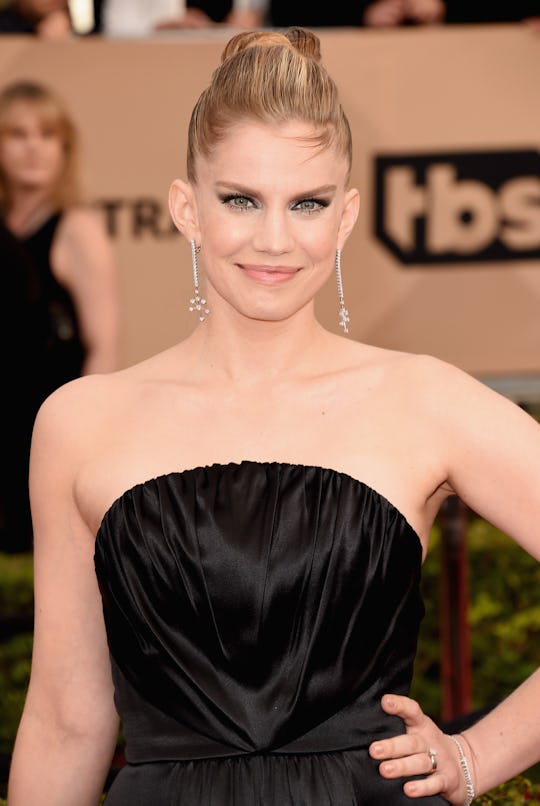 Jason Merritt/Getty Images Entertainment/Getty Images
When Is Anna Chlumsky Due? The 'Veep' Actress Is Expecting Her Second Baby
Actress Anna Chlumsky's family will soon be growing just a little bigger. According to People magazine, the actress confirmed that she is indeed expecting another baby — the second addition to her family in just under three years. But exactly when Anna Chlumsky is due is still largely unknown. So far, the actress is keeping the details of her pregnancy private.
Chlumsky revealed her family's exciting news during a Facebook chat with Travel + Leisure magazine on Wednesday. When the outlet asked whether she and husband Shaun So had made any vacation plans for the coming months, Chlumsky replied, "Being as expectant as I am, we're going to keep it low-key and try to get a beach vacation in pretty soon." That little hint was made even more exciting by the little pregnancy bump the actress appeared to have under the form-fitting dress she wore during the livestream. But, because she remained seated during the interview, it was tough for fans to get a good look. People later confirmed Chlumsky's news with her representative, who added that the star and her husband are expecting their baby "later this year."
The 35-year-old actress and her husband have been married for eight years, according to US Weekly. The couple welcomed their daughter Penelope in 2013, according to that report.
A three time Emmy-nominated actress, Chlumsky is perhaps best known to her fans for her role as Amy Brookheimer, the stressed-out campaign manager to VP-turned-interim President Selina Meyers (played by Julia Louis-Dreyfus) on HBO's much-acclaimed series Veep. Or, fans might recognize her as ill-fated FBI trainee Miriam Lass from NBC's Hannibal. But, despite all of her success in acting as an adult, the Chicago-born actress probably played her most-beloved role when she was just 11 years old: Vada Margaret Sultenfuss, the lead in '90s classic movie My Girl.
Still, while Chlumsky has certainly had a great career in the entertainment industry, when asked in a recent interview for The Guardian whether she would counsel her daughter to follow that same path, the actress gave an unexpected response.
I mean, in the sense that I have a ridiculous and irrational sense of responsibility for others, giving her advice would make me nervous even if I were a skier. Or a lawyer. In that I don't want to be responsible for her experience. My advice to her would be: Stick to school plays.
While the details of Chlumsky's and So's good news are still under wraps, it seems the couple has already found their groove as new parents to Penelope. The actress has spoken before about her love of motherhood and how parenthood has changed the couple's lives for the better. In a separate story for People, Chlumsky raved about being a mom:
It's awesome. I love it. She's becoming her own person and it's delicious to watch. She's really fun and really sweet. And she's very determined. I love all those things about her. If she wasn't my daughter, I'd want to hang out with her still. She's really good company.
Well, the fun times are about to double! Congratulations to the happy couple.