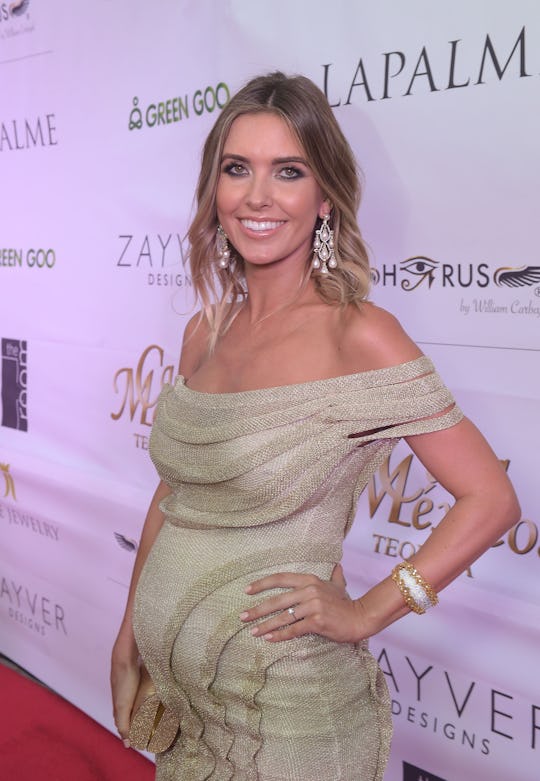 Jason Kempin/Getty Images Entertainment/Getty Images
When Is Audrina Patridge Due? 'The Hills' Star Has A Summer Baby On The Way
Former star of MTV's reality show The Hills, Audrina Partridge, has a busy summer ahead of her. The 30-year-old actress, blogger, and 1st Look TV host is not only getting married, but she's also pregnant with her first child. So, when is Audrina Partridge due? Ever since announcing her pregnancy in December, fans have wondered when Partridge was due. A December announcement would have put Partridge around near the end of her first trimester — so fans have always suspected a summer baby was on the way.
Partridge recently announced both the gender and her due date month on her blog, The Inside Out, writing, "We are thrilled to announce that we will be welcoming a sweet little GIRL into our family in July!" Partridge is engaged to Corey Bohan, a 33-year-old professional BMX dirt bike rider. The couple has been together since 2008; Partridge announced her engagement in November 2015. In an interview with E! Online, Partridge said she'll get married after their baby girl arrives this summer. Even so, Partridge has been trying on dozens of wedding gowns with her ever-growing pregnancy bump.
She's also been enthusiastic about documenting her pregnancy journey on her blog and showing off her maternity looks across social media. Always a fan of bikinis, Partridge first revealed her baby bump in an Instagram post on the beach in January, joking, "Burrito or baby?" In March, Partridge graced the cover of LAPALME Magazine with the headline "Audrina Partridge: Pregnant and Fabulous."
In her March blog post, Partridge said she and Bohan "can't wait to meet our baby girl, and we can't thank you enough for your support. It truly means the world!" She also said they were open to suggestions for possible baby names.
Partridge is one of the last cast members from The Hills to get married. In 2009, Heidi Montag and Spencer Pratt got married on the show. In 2013, Kristin Cavallari married Chicago Bears quarterback Jay Cutler. Lauren Conrad married beau William Tell in September 2014 while Whitney Port married Tim Rosenman in November of last year.
Partridge is the second of the major cast members of The Hills to be a mom: Cavallari and Cutler have three children together — two sons and a daughter. Baby Partridge will have plenty of play mates already, it seems.