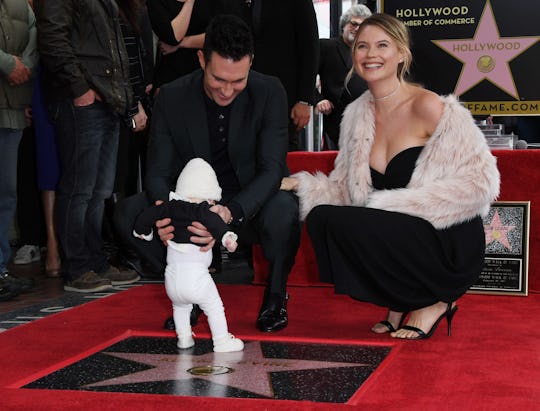 MARK RALSTON/AFP/Getty Images
This Is When Behati Prinsloo & Adam Levine's Second Child Could Arrive
Behati Prinsloo is one hot mama. The Victoria's Secret model already has a 12-month-old daughter with her husband Adam Levine, adorably named Dusty Rose. And the family of three is now about to expand by one more. Last week, Prinsloo announced on Instagram that she and Levine are expecting another baby together. But during the announcement, there was no indication given for when Prinsloo is due or when the world can expect this power couple's new baby to arrive.
This is how it all went down. Last Wednesday, Prinsloo took to Instagram to make the announcement and definitely wasn't subtle about it. In the photo shared to her account, Prinsloo's bump takes center stage (and you really can't miss it). "ROUND 2..." Prinsloo wrote in the Instagram's caption, allowing fans to get the message and, well, put two and two together. Pregnancy bump plus "Round 2" equals another baby on the way for Levine and Prinsloo.
"Adam and Behati are so happy to be adding another baby to their family," a source told People. "They are amazing parents and their loved ones are thrilled for them."
But this all leads to some very serious questions: What is the gender of Prinsloo's baby? Do they already have a name in mind? And most importantly — when will the baby be here?
Unfortunately, all of those are questions have yet to be answered by the parents-to-be.
Looking at Prinsloo's recent Instagram photos, it's not obvious that she's pregnant. But, here's what we can work from: Typically, doctors do recommend that women wait after the first 12 weeks of pregnancy to make the announcement, due to the complications that can happen during a woman's first trimester. So it's possible that she may have just entered her second trimester — and by that logic, Prinsloo may be due to deliver possibly in the spring of next year.
But according to TODAY, more women are going against the norm to share their exciting news before those 12 weeks have passed. So it's pretty much impossible to determine where Prinsloo is during her pregnancy right now.
During Prinsloo's first pregnancy, sources spilled the beans to Entertainment Tonight before the couple could make their official announcement. According to Entertainment Tonight, Prinsloo was 12 weeks along when sources confirmed that she and Levine were expecting their first child.
But, until Prinsloo comes out and says how far along she is (or has the baby), people will never really know for sure. But fans will get a better glimpse at Prinsloo's bump, according to Page Six, when she walks in the 2017 Victoria's Secret Fashion Show.
One thing is for sure — when the baby gets here, Prinsloo and Levine will make amazing parents to their newborn. Both Prinsloo and Levine have spoken highly about parenthood and their love for their young daughter, who turns 1 year old in just a few days on Sept. 21. Prinsloo told People in August:
I love Adam, and when you get married and you fall in love with someone, you think that there's no greater love than that love. And then you have a baby and thats just next-level love.
And during his Hollywood Walk of Fame ceremony in February, Levine revealed that he owed all of his success to his wife and family, saying, according to Entertainment Tonight:
I have a daughter, I have the most beautiful wife in the entire world. I am the luckiest person who has ever lived, and it has nothing to do with me, it has to do with the people who love me.
Levine is just about to get a little bit luckier when his second child is welcomed into this world — whenever that may be.
Watch Romper's new video series, Romper's Doula Diaries:
Check out the entire Romper's Doula Diaries series and other videos on Facebook and the Bustle app across Apple TV, Roku, and Amazon Fire TV.