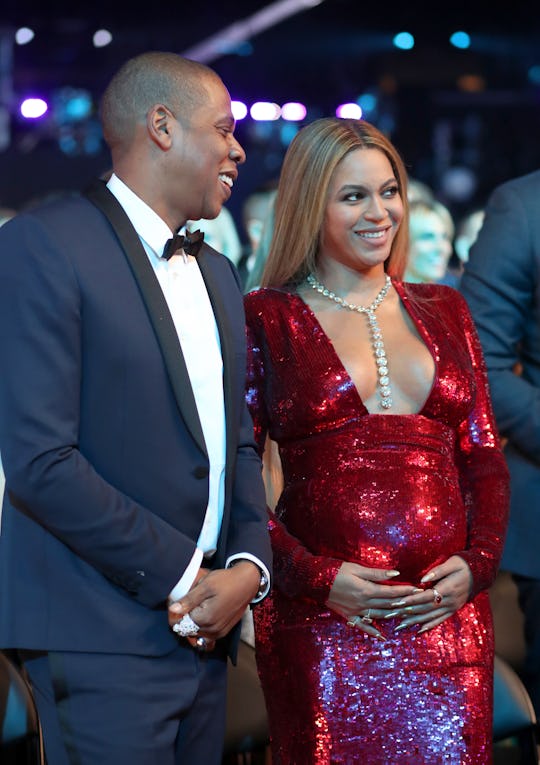 Christopher Polk/Getty Images Entertainment/Getty Images
When Is Beyonce Performing At The Hurricane Telethon?
A massive group of big-name celebrities — including Beyoncé, Blake Shelton, Barbra Streisand Oprah Winfrey, and more — are coming together this evening for an event called Hand in Hand: A Benefit for Hurricane Relief. So basically, there's one burning question on the minds of the collective Beyhive: When is Beyoncé performing at the Hurricane Harvey relief telethon? The good news is fans only have a few hours left to wait.
That's because the event will be telecast live starting at 8 p.m. Eastern Time and on tape delay at 8 p.m. on the West Coast on ABC, NBC, CBS, Fox, and CMT. You can also catch it online, as the telethon will be live-streamed on YouTube, Facebook, and Twitter. Although the telethon will air from Los Angeles, there will be stages in New York and Nashville, Tennessee. George Strait's San Antonio benefit concert for Harvey will be featured, too.
A host of celebrities will be offering live or taped messages, performances, or manning the phones, including: George Clooney, Reese Witherspoon, Drake, Matthew McConaughey, Selena Gomez, Dennis Quaid, Julia Roberts, Justin Timberlake, Jamie Foxx, Ryan Seacrest, Michael Strahan, Kelly Rowland, and many more. Journalists Matt Lauer and Norah O'Donnell are listed among the participants, as well.
If you're hoping to catch Beyoncé's performance, specifically, it looks like you'll have to tune in and keep an eye out; there hasn't been a detailed schedule of performances released so far. It's a good thing she's kind of hard to miss.
Members of the Bey Hive already know this isn't her first endeavor in helping hurricane victims. She has already pledged to help relief efforts for Hurricane Harvey via her BeyGood foundation. And on Sept. 9, the singer delivered an emotional speech to Hurricane Harvey evacuees at her St. John's Church in Houston.
"This today is a celebration of survival," she told her hometown, according to Rolling Stone. "Y'all are my family. Houston is my home. I thank God that y'all are safe, that your children are safe. The things that really matter are your health and your children, and your family and your life."
In the wake of Hurricane Harvey and Hurricane Irma's catastrophic flooding and wind damage, millions of people have been displaced, or worse, their communities have been utterly destroyed. Among the organizations that will benefit from the telethon are: United Way of Greater Houston, Save the Children, Direct Relief, Habitat for Humanity, Feeding Texas, and The Mayor's Fund for Hurricane Harvey Relief.
"The telethon is going to be good," said one of the telethon's organizers, Scooter Braun, according to the Associated Press. "We're going to put on a great show. The reason we want people to tune is because we want people to show who we are. That's our goal — to bring the idea that people care about each other back."
Click here to see all the different ways you can tune in to Hand in Hand: A Benefit for Hurricane Relief.