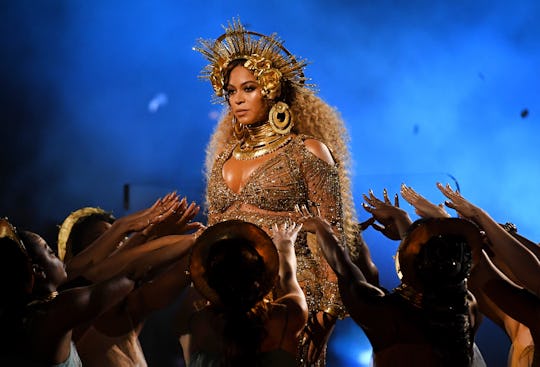 Kevork Djansezian/Getty Images Entertainment/Getty Images
Pregnant Beyoncé Will Still Perform At Coachella
Seeing Beyoncé command the stage at this year's Grammys proved that the queen is committed to her work, even when she's pregnant with twins. But when is Beyoncé's last tour date, and how far along will Beyoncé be when her shows finally come to a close? When April rolls around, will she still be up to belt and grind and lean backwards in a gravity-defying chair? Fans are absolutely hoping so.
If you're looking to see her before the birth of her twins, you'll have to catch her at either weekend of this year's Coachella festival in Indio, California, because these are her only tour dates. She'll perform at weekend one on April 15 and weekend two on April 22. Sadly, Coachella has sold out, so last-minute decisions to see her rock it may be just too little too late. One thing's for sure, though: Beyoncé's totally courageous. Sherry Ross, MD, OB/GYN told HollywoodLife that, by her own estimations, Beyoncé will likely be around 30 weeks along when she stunts on Coachella alongside the other headliners, Radiohead and Kendrick Lamar.
Fans who kept up with or managed to snag a ticket to the Formation World Tour have probably noticed that Beyoncé is performing a whole lot less right now. That's most likely due to the fact that she needs to keep her unborn twins safe. In weighing the potential implications of frequent concerts and pregnancy, Lindsay Bondurant, a pediatric audiologist at Salus University in Elkins Park, told The Philadelphia Inquirer that "one concert should be OK, but chronic exposure might be an issue." Thus, Bey's wise decision to keep it low-key — well, as low-key as a Coachella headliner can possibly be.
Fans will be happy to know that all of the winding down has reportedly resulted in an even happier Knowles-Carter family. A close source told E! News that Bey and Jay are reportedly doing better than ever, noting that the two "have always wanted a big family," so this pregnancy is bringing them plenty of joy. The source also shared that Blue Ivy can't wait to adopt all of the big sister responsibilities asked of her, which is bound to be the most adorable thing ever.
Coachella will probably be Beyoncé's final pre-twins hurrah, as afterward "she is going to take some time off for herself and her family," the aforementioned source claimed. Surely, her performance will be one for the books: Her Grammys renditions of "Love Drought" and "Sandcastles" brought the house down with their sheer power. Add a holographic video and goddess-inspired garb and people just couldn't take the nine minutes of perfection.
Regardless of the physical demands, Beyoncé always brings it, and Coachella will be no different — twins and all.