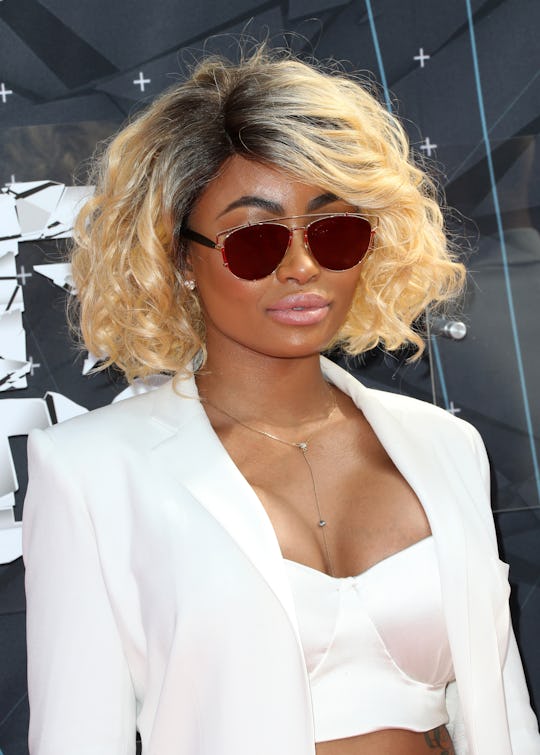 Frederick M. Brown/Getty Images Entertainment/Getty Images
When Is Blac Chyna Due? Another Kardashian Baby Is Coming
Make way for another Kardashian baby! News broke early Friday afternoon that Blac Chyna is pregnant, and the announcement came on the heels of her exciting engagement to Rob Kardashian. The twosome are reportedly in the thick of wedding planning, but now with a baby on the way, the real question is not when are they getting married, but more importantly, when is Blac Chyna due? Both Kardashian and Chyna (whose real name is Angela White) opted for Instagram official announcements of their pregnancy, both sharing the same Kimoji-inspired image of a lavender-hued Blac Chyna holding a pregnant belly. The image suggests that Chyna is well into her pregnancy, but it's likely they just did that for effect in order to get the message across.
Baby Chyna-Kardashian will join cousins Mason, Penelope, and Reign Disick, as well as North and Saint West. She (or he) will also be welcomed by big brother King, Blac Chyna's son from a previous relationship with rapper Tyga, whom we all know because he's dating Rob's sister, Kylie. It's a complicated family tree for sure, but the Kardashians, Disicks, Jenners, and Wests have always been super cognizant that the health, wellbeing, and happiness of their kids and nieces and nephews comes first and foremost, no matter what. So, when can we expect an heir to the Kardashian throne?
Sources told TMZ that "Chyna's several months along," adding that their pregnancy isn't "one of those, 'Oh crap, you're pregnant' situations." Though no one is saying exactly how far Chyna is at this point, here's what we do know: Rob and Chyna announced their engagement one month ago, on April 5. Of course, that doesn't mean that's the day they got engaged, but the official date of the announcement. Backing up even further than that, rumors first began circulating that Rob and Chyna were dating at the start of January 2016. So, honestly, it's anyone's guess when she and Rob will welcome their first child together. However, if you do the math, you can at least guestimate when Baby Kardashian will be welcomed to her (or his) throne.
If Chyna was pregnant shortly after she and Rob began dating (which, again, no one knows), that would mean that their first child together would be born in late fall of 2016, around the same time a huge hunk of the Kardashian and Jenner brood celebrate their birthdays: Both Kim Kardashian and Caitlyn Jenner have October birthdays; King Cairo, Tyga and Chyna's first son together, also has an October birthday; and Kendall and Kris Jenner both have November birthdays. But if Rob and Chyna are more recently pregnant, that could mean their baby would be due around the same time as the New Year, and if he or she came early, they'd potentially have birthdays close to their cousins — both Mason and Reign Disick have a birthday on December 14, and Saint West was born 11 days earlier, on December 5.
Since TMZ's sources seem to suggest that Chyna is "several months along," it makes complete sense that they would have waited until she was 12 weeks (or further along) to announce the news that she was expecting. Regardless, congratulations to the happy couple. An impending wedding and news of a baby on board is the real deal, and they deserve every ounce of happiness for it.