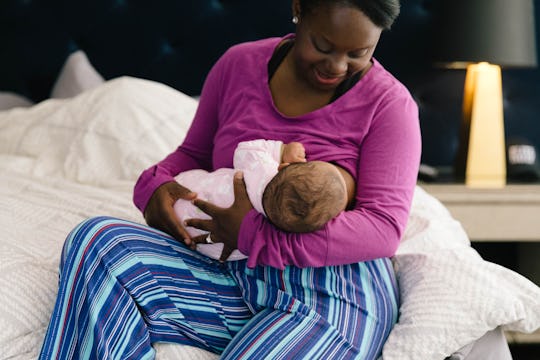 Ashley Batz / Romper
Support Black Breastfeeding Awareness Week In A Meaningful Way — Here's How
Although it's a perfectly natural choice, breastfeeding still receives pushback from some employers and individuals. Thankfully, some great organizations are dedicated to supporting nursing moms. So when is Black Breastfeeding Week 2018? The annual event is focused on sharing the love this year.
This year's Black Breastfeeding Week will be celebrated from August 25 to 31, 2018, as noted on the organization's official website. The sixth annual event, it features both local and online events that highlight the importance of breastfeeding for the black community in particular. The theme for this year is Love On Top, emphasizing the loving, nurturing aspect of breastfeeding, as further noted by the org's Twitter account and website. And it's also a nice nod to Beyoncé.
Getting involved in events for 2018 Black Breastfeeding Week is easy. Simply search the #BlackBreastfeedingWeek2018, #BBW18, and #LoveOnTop tags on your favorite social media. Seriously, just scrolling through the pics of breastfeeding moms on Instagram is pretty powerful. You can also follow Black Breastfeeding Week on Twitter (@BlkBfingWeek) and Facebook for the most up-to-date info. There are also great events held in many areas throughout the week, including an Awesome Breastfeeders Circle For Black Breastfeeding Week held on Saturday, August 25 in Los Angeles. Check the tags for events in your area, and post about your own breastfeeding experiences with the organization's hashtags.
August is already National Breastfeeding Month, as explained in Romper. It's all about providing support for breastfeeding moms. So why is one week set aside for black breastfeeding in particular? "We noticed that as breastfeeding promotion increased, the face of it was still very white and every year we're still having more research come out showing that there's a disparity in support for breastfeeding for black women," said Anayah Sangodele-Ayoka, co-founder of Black Breastfeeding Week, in HuffPost. After teaming up with Kimberley Seals Allers and Kiddada Green, the women formed Black Breastfeeding Week to create a greater community of support for black mothers who nurse.
And as the numbers show, there is still a racial divide when it comes to the mothers who breastfeed their children. Approximately 82 percent of white mothers initiated breastfeeding with their children, compared to 64 percent of black mothers, according the Centers for Disease Control and Prevention's most recent US data on breastfeeding. This difference is concerning because breastfeeding provides so many benefits to infants. In fact, breastfeeding is recommended for at least the first six months of an infant's life in order to provide the best nutritional and health benefits, as stated by the World Health Organization. Plus, breastfeeding protects against many diseases and conditions that could otherwise harm infants, as explained by the American Academy of Pediatrics. As far as leading health organizations are concerned, breastfeeding your baby is a wise choice.
That's why Black Breastfeeding Week is so important, because it opens to dialogue to the unique cultural barriers facing black women who want to nurse their children. In time, this fantastic organization could help more black babies receive the tremendous health and nutritional benefits associated with breastmilk. So give this org your support to make breastfeeding easier and more accessible for all moms.